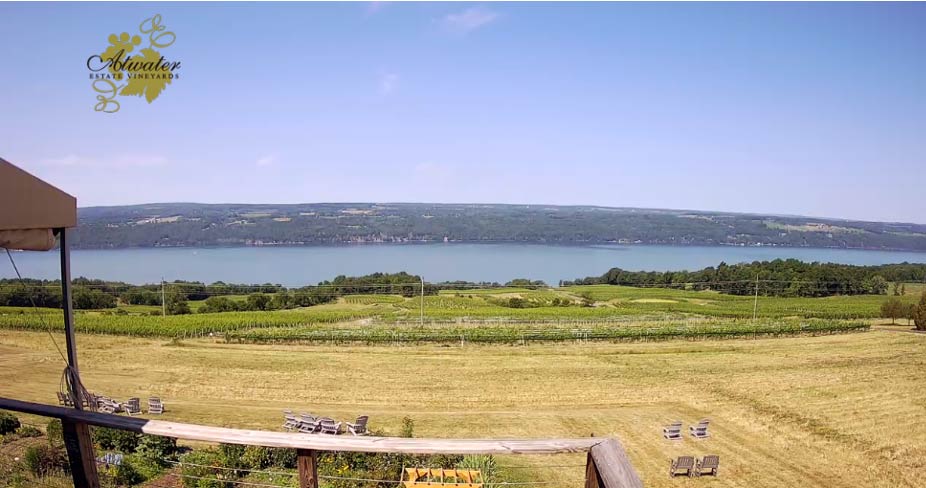 NOW OFFERING TASTINGS ON THE DECK BY RESERVATION
SEE DETAILS BELOW

In the Vineyard

It has been a very dry spring/early summer, and we've received less than an inch of rain in the past two months—six or more inches less than average. Fortunately, our soils have good water holding capacity and the grapevine roots go deep. We are seeing little stress, although we would be happy to get some rain! We have watered our young vines a couple of times because their root systems are not as developed as those in our older vines. It must be done by hand and is a time-consuming process since we do not have irrigation installed. The dryness does provide benefits: very little disease pressure and good fruit set, which is when the flower forms a berry. We often battle rain at bloom, which can cause poor fruit set. We did not have that issue this year, so there is a good crop out there if we can make it to the finish line with no problems.b

Wine Cellar Updates

On the heels of bottling the Pinot Noir 2019 and a couple of "orange" wines from the 2016 and 2017 vintages, we tackled the Stone Bridge Red 2019 in July.
This Atwater favorite is a blend of Marechal Foch and Chancellor; both are fermented on the skins and barrel aged for eight months in neutral American oak. The wine is usually finished with a few grams of residual sugar to increase the fruit expression and help round out the mouthfeel.
Later this month, we will begin to start pulling out the 2018 and 2019 reds from their slumber in the barrel cellar for our final round of bottling before we begin preparations for the 2020 harvest season.

End of Vintage
We've only got a few cases left of these vintages. Order before they are gone!

Cabernet-Merlot 2016

Pinot Gris 2017

New Releases

Blaufränkisch 2017
New Release
Grapes were fermented in open-top bins for eight days, then the wine was aged in American and Hungarian oak barrels for nine months. It offers aromas of chocolate which merge into smooth silky tannins on the palate with favors of maraschino cherry and a caramel toffee finish.

Dry Riesling Navone 2016
New Release
The grapes in this wine were sourced from the Navone Vineyards. Fifty percent were barrel fermented and fifty percent fermented in stainless steel. The wine was aged in neutral French and American oak for eight months sur lees. Bright and zesty, it shows more mineral and spice than fruit. The flavors are rich and flinty with citrus and apple remaining upfront, and a delicate nuttiness rounds out the finish.

From the Tasting Room

We've been re-open now just over a month, and we've loved having guests at the vineyard again. We are pleased to offer al fresco service with wine by the glass or bottle and wine cocktails or tastings by reservation only.
Since our last newsletter, we've also opened our deck for tastings by reservation. During these experiences, you'll have a gorgeous view of our vineyards and Seneca Lake while one of our hosts guides you in an immersive wine tasting covering our estate, winemaking practices, and vintages.
Indoor and Deck Tastings
Reservations are required and may be made online. When making your reservation you have the option of ordering add-ons such as cheese plates and chocolate selections.
Each scheduled tasting is up to an hour and will be offered from 10:00 a.m. to 5:00 p.m.
The maximum group size we can accommodate is four (4).
Only those individuals on your paid reservation are allowed inside or on the deck for tastings, and we cannot admit anyone under twenty-one years of age.
To maintain social distancing, your host will lead you through your tasting, take any bottle orders you have from your assigned seating, and package your purchase for curbside pickup.
Dogs are not allowed in the tasting room or on the deck.
Al Fresco Service
Wine by the glass or bottle service is outside. We have covered picnic tables and an assortment of lawn chairs. You may also bring your own chairs or blankets. Please be mindful of the weather when you prepare your trip.
Seating is first-come, first-served. Our hosts will be on hand to direct you, take your order, and answer any questions your may have.
Al fresco service will be available from 10:00 a.m. to 5:00 p.m. Monday through Thursday and 10:00 to 9:00 p.m. Friday through Sunday.
The maximum group size we can accommodate is six (6).
Leashed dogs are allowed in our outdoor areas and must maintain social distancing.
We will be observing all New York state mandates regarding COVID-19 safety measures. Guests must wear a mask in all common areas; they may be removed once seated. We ask you follow all directional and traffic flow signs and observe social distancing (six feet) between groups. Please do not come to the winery if you are displaying signs of COVID-19 or another contagious disease or if you have been exposed. Thank you for helping make this a safe and pleasant environment for our other guests and employees.

For those outside of the area or who are still wanting to stay at home, we are offering a ground shipping offer, curbside pickup, and free local delivery.
Ground Shipping
Our $10 per case ground shipping. Quantity and club discounts apply.
Curbside Pick-up
Order online and choose the "Pickup" option at checkout. When you arrive, park and call (607) 546-8463 to let us know you've arrived. We'll bring your wine out to you and load it in your vehicle.
Local Delivery
Order wine by noon Monday through Friday for same-day local delivery. Call us at (607) 546-8463 or place an order online and select the "Local Delivery" shipping option. There is a six-bottle minimum and a twenty-five-mile radius delivery limit.

Orders for pick-up or delivery can include specialty food, puzzles, and even wine keys! Browse our selection here.

CLUB HOUSE
Amanda and her staff are busy preparing the next quarterly shipment for wine club members. Due to COVID-19 social distancing and space concerns, we will not be having a pick-up party in August, but we encourage you to take advantage of your free tasting or al fresco service for wine by the bottle or glass while picking up your wine. If you have questions, please email her at amanda@atwatervineyards.com or call (800) 331-7323.

UPCOMING EVENTS
Check out our Events Calendar for the latest events at and around Atwater Vineyards.