September 15, 2019 |
Atwater Vineyards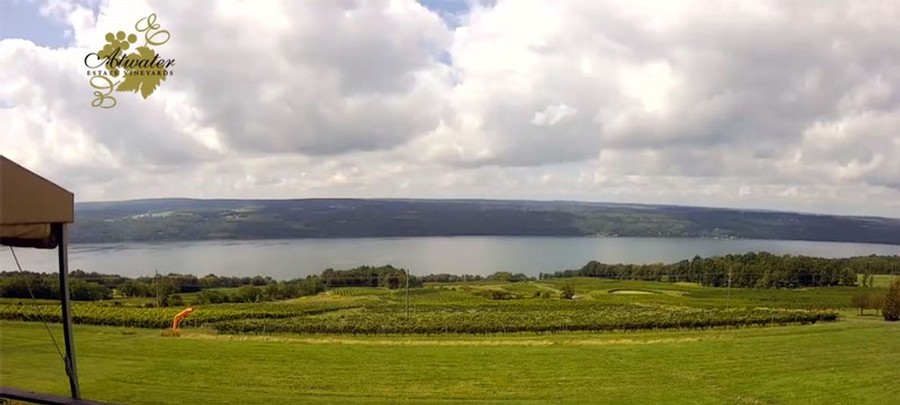 Be sure to tune in to our LIVE webcam and watch "Mr. Pinot"
go about the hard work of scaring away hungry birds.
---
For the second year in a row, the Finger Lakes was named the "Best Wine Region in North America" by voters in USA Today 10Best Readers' Choice Poll. A panel of wine industry experts selected the initial nominees, and readers voted for their favorite wine region over a two-week period. We are thankful that visitors to our picturesque region are as enchanted with the area as we are.

---
In the Vineyard
September began with perfect weather: sunny yet cool. However, as grapes start to ripen, they become attractive to birds who have voracious appetites for the fruit. We employ several methods to keep winged marauders away from our crop.

Noise-making devices like propane powered bird cannons and squawk boxes are positioned throughout the vineyard. You'll also see a twisty, turning, inflatable orange dancing man affectionately named "Mr. Pinot" who is mesmerizing and humorous to watch but also effective at scaring birds from the vineyard.

Finally, we painstakingly cover some of the rows with bird netting. The grapes birds seem to like best are the red varieties Pinot Noir, Cabernet Sauvignon, Blaufränkisch, and Syrah.

We are about one week behind in growing degree days. While some grape varieties are still going through veraison, others are ripening slowly in the recent cool weather. Towards the end of the month, we expect to begin harvest with Cayuga and Pinot Gris.
---
In the Cellar

We recently received a new 860-gallon stainless-steel red wine fermentation tank from employee-owned Vance Metal.
In business since 1880, they have been a stalwart supporter of the wine industry for decades and have built all our stainless-steel tanks. We're very excited to put it to use this season!
Here you see Vinny and George with their "Christmas morning" smiles.
---
New Releases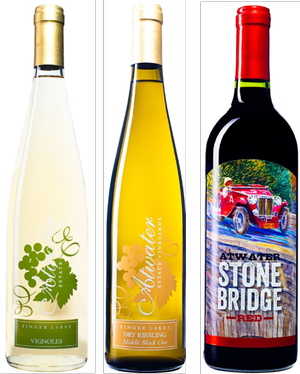 ---
From the Tasting Room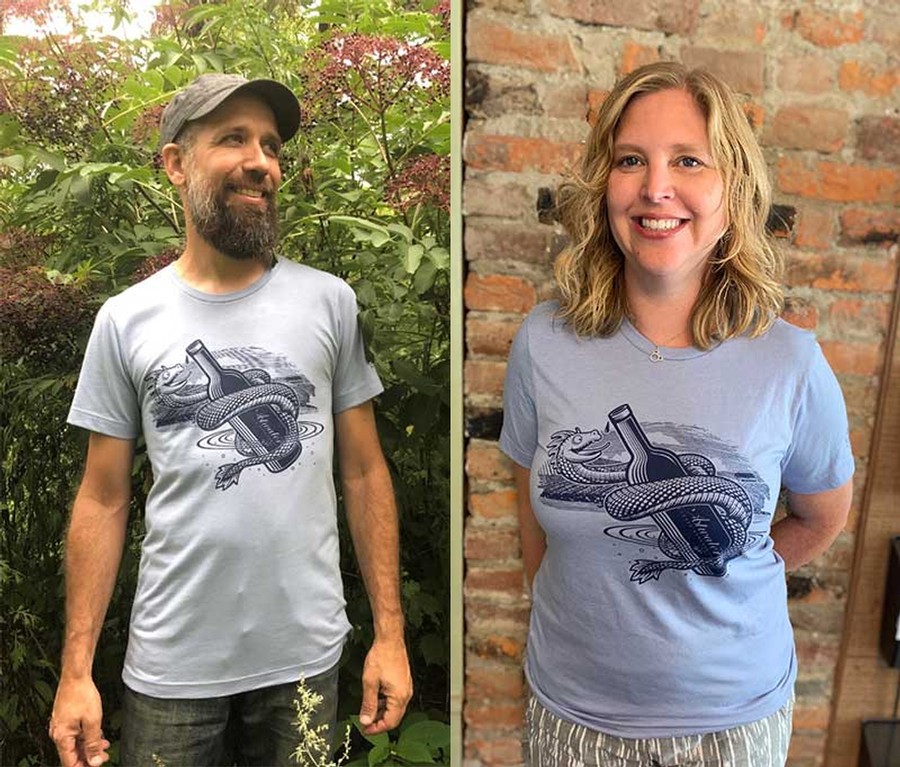 Have you seen our new t-shirt design? Monster or myth, the Seneca Sea Serpent is a timeless local legend with roots in the indigenous population. Native Americans believed Seneca Lake was bottomless with a monster that lived in its depths. Seneca Lake is 200 feet below sea level and is connected to the Atlantic via Lake Ontario and the St. Lawrence River. Could an ancient ocean–dweller have made it all the way to here?
Atwater apparel is available in the Tasting Room or online.
---
The Vineyard Table, Another Great Year
On September 1, our club members and winemakers, Vinny and George, had a wonderful time at the last Vineyard Table of the season. We celebrated our library wines paired with delicious dishes crafted by the Red Dove Tavern. We appreciate everyone who has joined us for these magical evenings as well as the Atwater and Red Dove staff who made them possible. Please plan on joining us next summer to enjoy delicious food and wine in the heart of our vineyard. Watch our newsletter next spring for the new dates.