December 3, 2014 |
Atwater Vineyards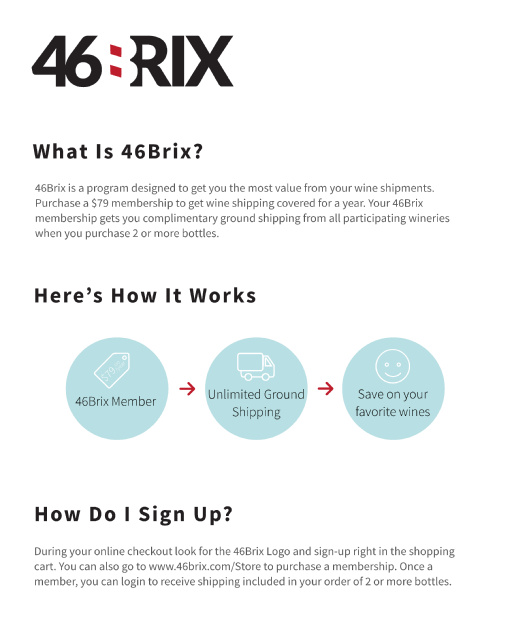 Finally, Wine Shipping that Makes Cents!
46Brix is a unique membership program for wine lovers powered by WineDirect and Vin65. Members enjoy exclusive shipping benefits from the hand picked selection of premium and sought after wineries.
$0 Shipping on hundreds of wines.
Access to over 29+ wineries - and the list keeps growing!
Order as many times as you like - from as many wineries as you like.
Support your favorite vintners by shopping direct from the winery.
With 46Brix, the more you spend the more value you get from your 46Brix membership! An annual fee of just $79 covers ground shipping on all orders of two or more bottles, no matter how many purchases you make. 46Brix saves you time and money. Shipping wine can be expensive (unfortunately wine is heavy). This is a great way to stock up without incurring large shipping fees with each purchase.
How it Works


All you need to do is select 46Brix when checking out. It's that easy!
To enroll, simply purchase the $79 annual membership below .
Shop any of the participating wineries.