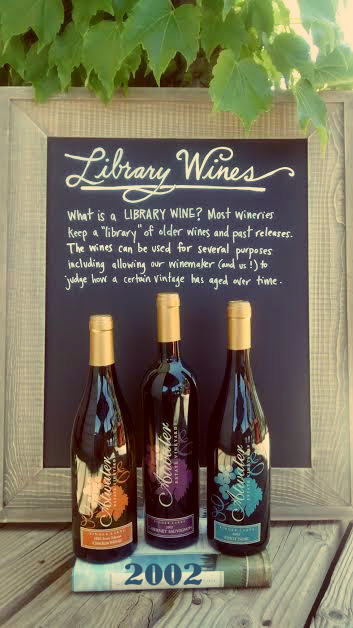 Limited release library wines are available now,
we have less than two cases of each. Call us to order
800-331-7323. Taste tested and priced accordingly,
no discounts may be applied due to the very limited
supply.
Quotes taken from our tasting notes upon the wine's release, the following still holds true today for these twelve year old wines.
2002 Estate Selection Chardonnay $19
"Barrel fermented and aged in French oak for over a year, this wine is reminiscent of toasted hazelnuts, lemon and apples. Enjoy with shellfish, chicken and cheeses."
2002 Cabernet Sauvignon $30 SOLD OUT
"Our second vintage, this wine exhibits notes of black currant, herbs, and cedar. Savor with hearty roasts and rich cheeses."
2002 Pinot Noir $20
"This lovely wine displays notes of cherry, spice, and herbs. Superb when served with game and grilled seafood."
The 2002 growing season was long and seasonably warm, which was excellent for fruit of the Finger Lakes Region, allowing the grapes to ripen until the very last minute before harvest. For a nostalgic look back on the 2002 Harvest, here is an article written by Peggy Haine for Life In The Finger Lakes.