December 15, 2020 |
Atwater Vineyards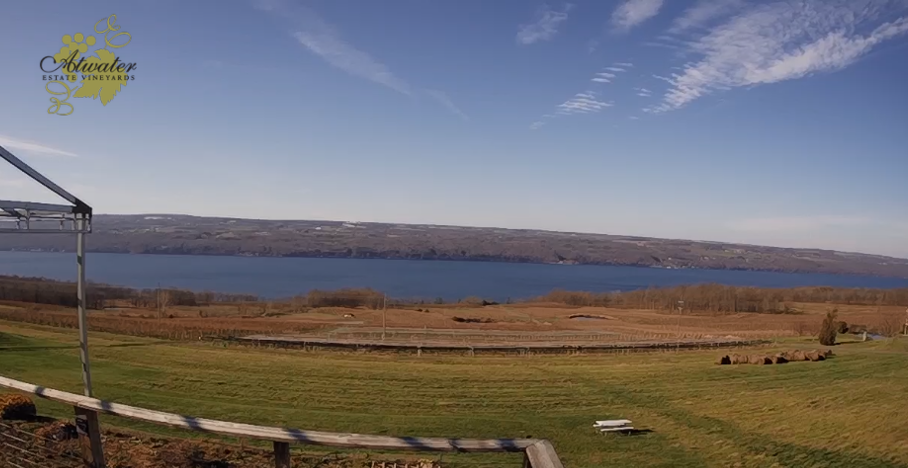 Have a Happy and Healthy Holiday Season and New Year!

In the Vineyard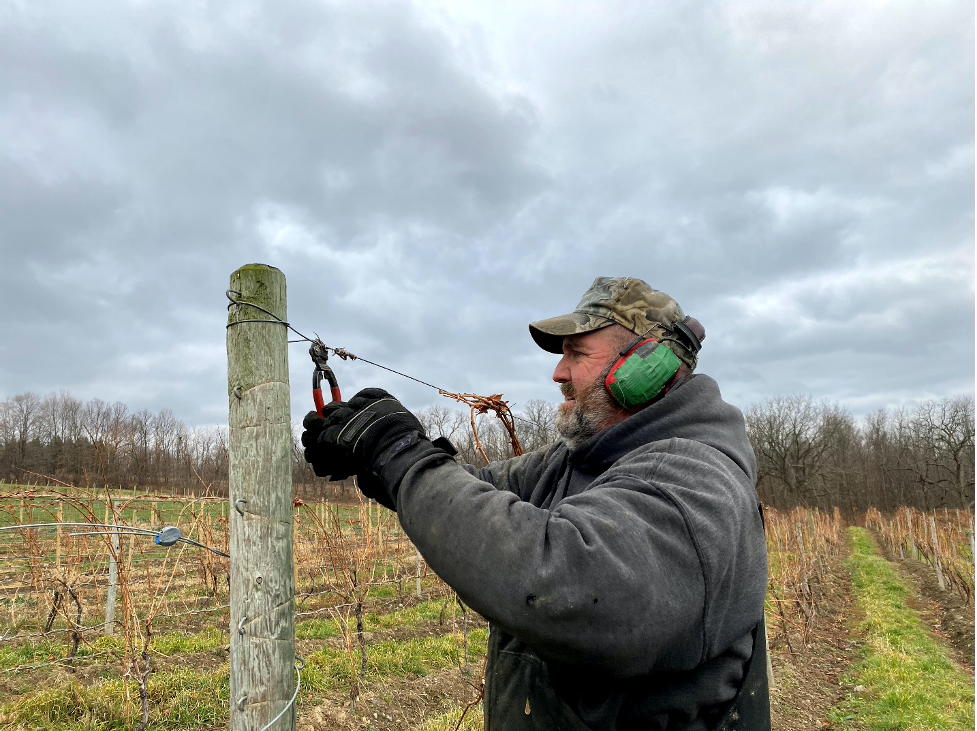 Each year following harvest, we go through and check all of our posts, wires and trellis hardware. This is routine maintenance important to make sure that the trellises can support the load when the crop is on. An average crop load is about 4 tons/acre, so our trellises need to be strong to support all of that weight. We can continue to pound replacement posts until the ground freezes, often well into December or later. Replacing hardware requires dexterity, so it has to be warm enough to wear thin gloves. When it is too cold for lightweight gloves, it is time to start pruning.

Wine Cellar Updates

The 2020 whites and rosés have completed alcoholic fermentation and many have been racked off their lees (yeast) as they head into their cold stabilization period whereby they will precipitate tartaric acid crystals. Tartaric acid crystals are sometimes called "wine diamonds," and while they don't affect the taste of wine, they aren't always aesthetically pleasing. In the cold fermentation process, the crystals are formed in the tank and are separated from the wine preventing them from forming in the bottles. Once the whites and rosés are stable, the winemakers will begin preparation for the bottling season which should start in early 2021.

New Releases

The barrel aged 2020 reds have also completed alcoholic fermentation but are now in the process of completing a secondary malolactic fermentation, whereby the malic acid (think apple) is converted to lactic acid (think cream). This should be wrapping up over the next few weeks and will be followed by the same cold stabilization period undergone by the whites and rosés.
For more information about malolactic fermentation, read Wine Folly's article "What is Malolactic Fermentation? The Buttery Taste in Wine."
Additionally, Vinny, George, and Wes have been conducting tasting trials. Even the percentage of grapes from different blocks on the farm has an affect on the flavor profile!

WES (L) AND GEORGE (R) TASTE WINES FOR BLENDING TRIALS

BACK IN STOCK
In this sparkling wine, floral aromas linger with honeysuckle and rose while layered, bright flavors of peach and kiwi give way to a citrusy finish.
END OF VINTAGE

From the Tasting Room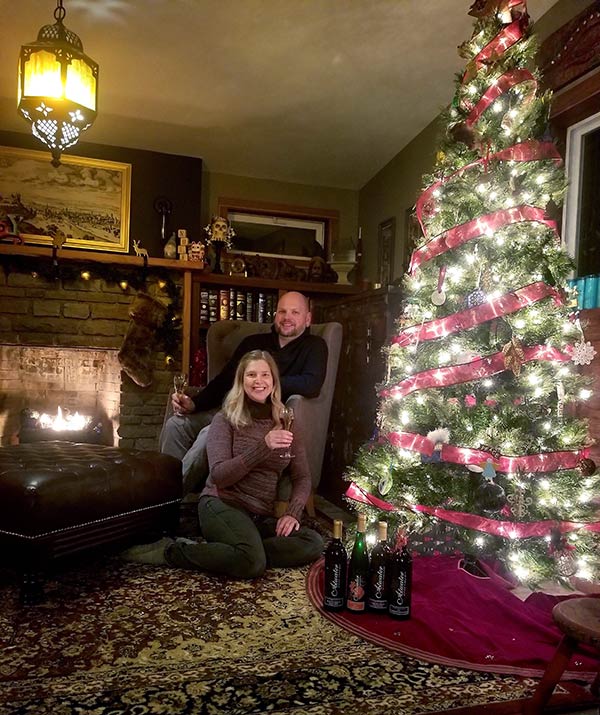 New and Old Traditions
Amanda and Tracy plan to sleep in and have a quiet day and open our presents at our own whim then curl up in comfy clothes and watch Christmas movies while sipping on wine or bourbon all day—which they honestly, we look forward to that every year. This year, though, they must do their family's big Secret Santa exchange via mail instead of in person.
Amanda has never been a breakfast person. To slow down Christmas Day, her mom always said she had to eat breakfast before presents were opened. It never pleased her, but due to it being a holiday it became a tradition that a cinnamon roll counted as breakfast and then became a family joke. As she got older that tradition changed, and now she and Tracy prepare an overnight French Toast bake every year to be paired with eggs, bacon, and mimosas made with Bubble Riesling or Bubble Riesling on its own! It's the one time a year she looks forward to breakfast.
Overnight French Toast
French Toast
Butter, for greasing
1 loaf crusty sourdough or French bread
8 whole eggs
2 cups whole milk
1/2 cup whipping (heavy) cream
1/2 cup granulated sugar
1/2 cup brown sugar
2 tablespoons vanilla extract
Topping
1/2 cup all-purpose flour
1/2 cup firmly packed brown sugar
1 teaspoon ground cinnamon
1/4 teaspoon salt
Freshly grated nutmeg
1 stick cold butter, cut into pieces, plus more for serving
Warm pancake syrup, for serving
1 cup fresh blueberries, for serving
1. For the French toast: Grease the baking pan with butter. Tear the bread into chunks, or cut into cubes, and evenly distribute in the pan. Crack the eggs in a big bowl. Whisk together the eggs, milk, cream, granulated sugar, brown sugar and vanilla. Pour evenly over the bread. Cover the pan tightly and store in the fridge until needed (overnight preferably).
2. For the topping: Mix the flour, brown sugar, cinnamon, salt, and some nutmeg in a separate bowl. Stir together using a fork. Add the butter and with a pastry cutter and mix it all together until the mixture resembles fine pebbles. Store in a re-sealable plastic bag in the fridge.
3. When you're ready to bake the casserole, preheat the oven to 350 degrees F. Remove the casserole from the fridge and sprinkle the topping over the top. Bake for 45 minutes for a softer, more bread pudding texture or for 1 hour or more for a firmer, crisper texture.
4. Scoop out individual portions. Top with butter and drizzle with warm pancake syrup and sprinkle with blueberries.
Recipe Courtesy Food Network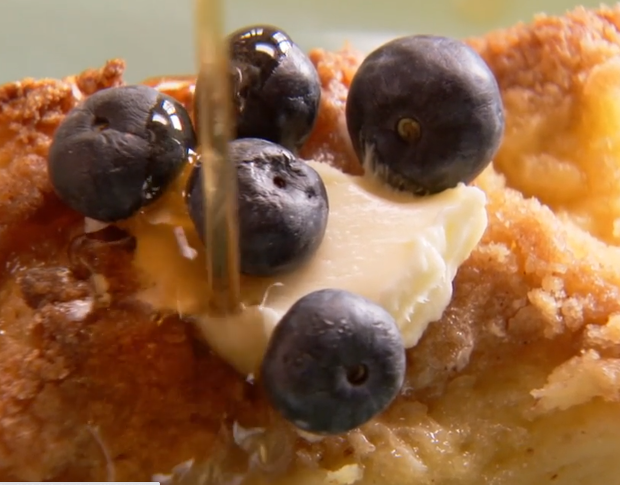 GETTING OUR WINE

Ground Shipping
Our $10 per case ground shipping. Quantity and club discounts apply.
Curbside Pick-up
Order online and choose the "Pickup" option at checkout. When you arrive, park and call (607) 546-8463 to let us know you've arrived. We'll bring your wine out to you and load it in your vehicle.
Local Delivery
Order wine by noon Monday through Friday for same-day local delivery. Call us at (607) 546-8463 or place an order online and select the "Local Delivery" shipping option. There is a six-bottle minimum and a twenty-five-mile radius delivery limit.

Orders for pick-up or delivery can include specialty food, puzzles, and even wine keys! Browse our selection here.

UPCOMING EVENTS
Follow our social media channels to keep up with our activities!