September 16, 2013 |
Atwater Vineyards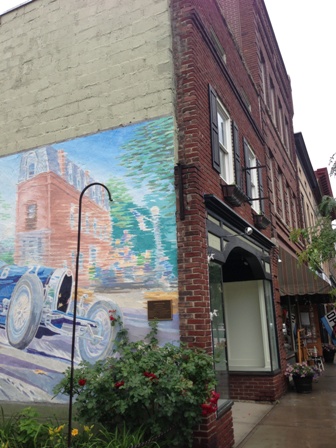 PRESS RELEASE: The Tasting Room by Atwater has opened in Watkins Glen.
The store, at 204 N. Franklin St., will feature tastings and sales of wines from all of New York's wine regions, hard apple cider from Bellwether and other cideries and New York cheeses.
Atwater Estate Vineyards opened their winery in 2000 and have always heard from the hotel and B & B owners that when their customers arrive in Watkins Glen the night before, there is very little to do, no wineries to visit until usually 10:00 AM the next morning. Most of the shops have closed for the evening and quite honestly they are disappointed.
"These are the real reasons we have just opened The TASTING ROOM in downtown Watkins Glen," explains co-owner Katie Marks. "Watkins is starting to realize what potential they have in the thousands of visitors who come to the Village to see the beauty of the Glen, go to the races and visit the wineries each and every day The lake front in Watkins Glen could be one of the most beautiful in the Finger Lakes and just look at all the pictures that feature the break wall and the gazebo on the pier right now."
Ted Marks, also co-owner went on to say: "If the Village of Watkins Glen works with the Village of Montour Falls and remove our odorous and outdated sewer plant, think of the potential for lake development for residences, restaurants and shops. What if we had a museum that recognized the auto racing history that was easily accessible and visible to these visitors? What a service we would be doing for these visitors and for the researchers of America's motor racing history using the International Motor Racing Research Center and Watkins Glen International as the foundations of a museum. I'm excited for Watkins and that is why we opened our shop on Franklin Street."
The designer of the space is Gideon Stone from HOLT Architects in Ithaca in collaboration with Katie Marks. Builders are Dan Bardeen and Bill Hunter. The unique cement bar was crafted by Nate Greenspun and iron work is by Durand VanDoren. The property was purchased from Mrs. Joshua Navone. The manager is Jessica Giles and will be assisted by Mike Atwood and Jennie Cook.
The TASTING ROOM by Atwater will of course feature all the current Atwater wines, but what will be unique in the industry is that it will also sell and taste other New York wines from throughout the nine wine regions, not just Seneca Lake or the Finger Lakes Region. They plan also to carry hard apple cider from Bellwether Farms and other local cideries and a selection of NY cheeses for sale and tasting. Other products from New York farms will also be available, depending on the season.