April 10, 2015 |
Atwater Vineyards
Press Release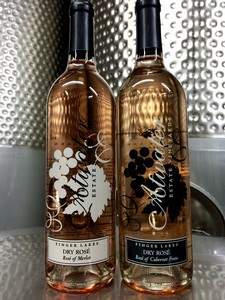 Burdett, NY— A panel of wine judges at SIMI Winery in Sonoma County, California presented Atwater Estate Vineyards with a prestigious Double Gold medal for the 2014 Rosé of Merlot at The Rose Competition held on March 25th. The competition involved blind tasting and evaluation of 192 wines from across the USA. Atwater's Rosé was the only Finger Lakes wine to garner a double gold medal, signifying a unanimous agreement by the judges, while their 2014 Rosé of Cabernet Franc was also recognized with a Silver Medal. Both wines competed and won in the "dry" category.
"2014 Rosé of Merlot is the first we've ever produced. It was made from the first crop of Merlot vines we planted in 2011, one of the closest blocks to the lake shore," said winemaker Vincent Alperti. "The grapes were so beautifully balanced, the wine literally made itself. I am just glad I didn't blend the Merlot away! We produced only 38 cases," he added. (The 2014 Rosé of Merlot is being sold through the winery's tasting room and website only.)
The winery released the 2014 Rosé of Merlot and the 2014 Rosé of Cabernet Franc on April 1st to coincide with Discover Dry Rosé, a month long Finger Lakes region wide promotion at 28 wineries. Visitors to the winery's tasting room in Burdett can enjoy a tasting of these Rosé wines and their Pinot Noir Rosé Bubble, paired with specially selected New York state cheeses throughout the month of April.
Since 2000, Atwater Estate Vineyards has been a family owned and operated winery with vineyards extending to the southeastern shore of Seneca Lake. Located in the heart of New York State's Finger Lakes wine region and where the deepest of the Finger Lakes, Seneca Lake, plunges to 600 feet, Atwater's vineyard boasts over eighteen varieties of vinifera, hybrid, and native grapes. The massive lake depth creates a micro-climate within a macro-climate, warmer than any other spot in the region, allowing more challenging varieties the opportunity to grow and ripen. Wines are produced and sold online, at retail stores across New York state and on site at Atwater Estate Vineyards, 5055 State Route 414, Burdett, NY 14818. Visitors are welcomed throughout the year, seven days a week, 10 a.m. to 5 p.m. Monday-Saturday, and 11 a.m. to 5 p.m. on Sunday. Phone: 607-546-8463 or 800-331-7323.