January 15, 2020 |
Atwater Vineyards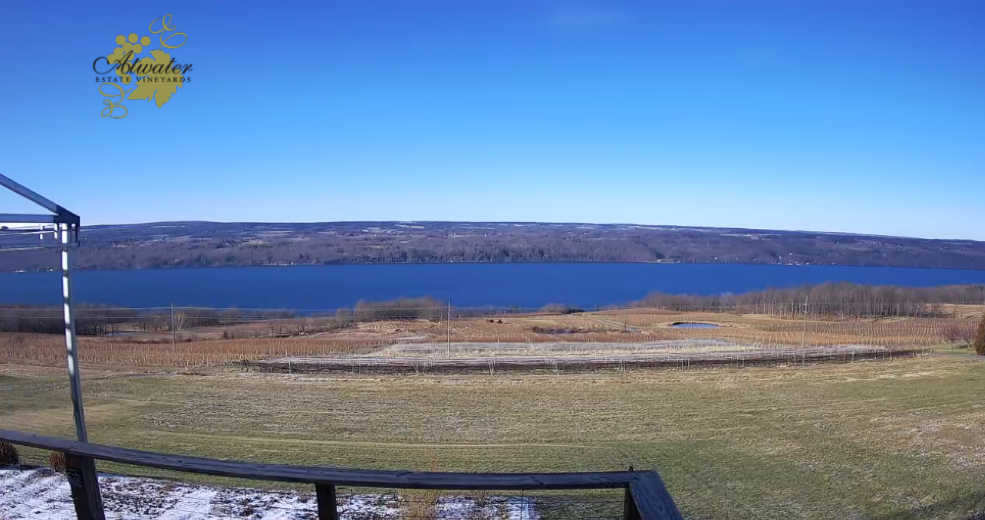 Be sure to tune in to our LIVE webcam to watch the winter weather.

2020 marks Atwater's 20th anniversary.
We are excited to meet this milestone and hope you will join us in celebrating throughout the year.
---
IN THE VINEYARD

On cold days, we've begun pruning our hardier varieties which is ideal since we can bundle up and stay warm. Each vine is pruned by hand so that we can assess how it is doing. Proper pruning is the foundation for managing the growth, crop load, and health of our vines. On January 31, we will be participating in the second annual Felco East Pruning Competition at Anthony Road Winery for a friendly test of our pruning skills.
Warmer weather during December and January, however, has allowed us to keep doing trellis work, which we need to have more dexterity (i.e., thinner gloves) for. It has also been wet, which makes it hard to get tractors into the vineyard. Even so, we've already gotten much more tractor work in than average for this time of year.
IN THE WINERY
The winemakers are closing in on most of the major blending decisions for the 2019 whites and rosés, with only a few more adjustments as we head toward the bottling season. In the barrel room, our reds are just finishing up malolactic fermentation and will soon be ready for their winter hibernation. With the benefit of time, we can report with more confidence that the wine quality of last fall's vintage appears quite strong across the board.
FROM THE TASTING ROOM
Cheese Plates and Charcuterie Boards
Cheese plates and charcuterie boards are available throughout the winter and are perfect to enjoy with a glass of wine or with one of our tantalizing wine cocktails in our cozy tasting room overlooking the sleeping vineyards.

SLWT Bargain Bash
Held January 11-20 after the busy holiday, the Seneca Lake Wine Trail's Bargain Bash is an inventory reduction and clearance sale with many wineries providing discounts on wine and a variety of retail items. It is free to attend and no tickets are required. We will be offering can't-miss deals such as:
Dry Rosé of Blaufränkisch 2017: $7 per bottle
Atwater White: $6.50 per bottle
Finger Lakes Wine Glasses (Set of 12): $35 normally $70
Available in tasting room only while supplies last. No additional discounts apply.

SLWT Global Eats and Local Wine
International flavor comes to Seneca Lake during the Global Eats and Local Wine event! Enjoy a tour around Seneca Lake while exploring the unique, delicious pairings of Seneca Lake wines with foods from a variety of nations and cultures at twenty-one participating Seneca Lake Wine Trail wineries. At Atwater, we are pairing Apple Butter Rugelach, a taste of Poland, with our Riesling 2015. Tickets, available through the Seneca Lake Wine Trail, are $40 per person, $20 for designated drivers.
SLWT Wine Weekday Passports
Seneca Lake Wine Trail Wine Weekday Passports are available in our tasting room or through the Seneca Lake Wine Trail. Good through June 30, 2020, these passports allow one guest a tasting at each of fifteen participating wineries and are valid Monday through Friday during regular business hours. They can be used in a single week or over the course of several and provide a convenient way to enjoy many of the wineries on the Seneca Lake Wine Trail.
UPCOMING EVENTS
Check out our Events Calendar for the latest events at and around Atwater Vineyards.