September 10, 2014 |
Atwater Vineyards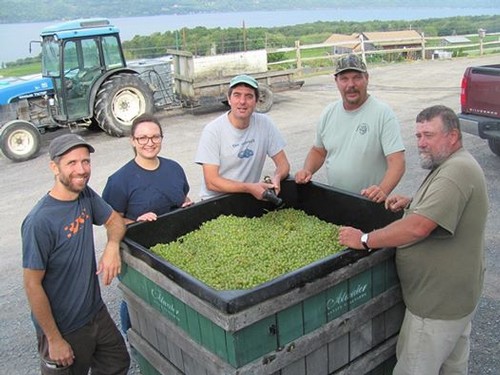 First up this year, Cayuga White
Origin: A hybrid of Seyval Blanc X Schuyler, it was developed at the New York State Agricultural Experiment Station in Geneva, New York starting in the 1950's.

New York Introduction: Released for commercial planting in 1972.
Atwater Introduction: 1982
Acreage: Atwater Estate Vineyard: 1.0 acres / Total New York: 266 acres
Viticultural Characteristics: Vigorous, moderately hardy vine with good disease resistance, Cayuga produces high yields of large, well-filled clusters.
How we use it: Cayuga can be vinified successfully from dry to sweet. This is a wonderful blending wine and we use it primarily in our Stone Bridge White.