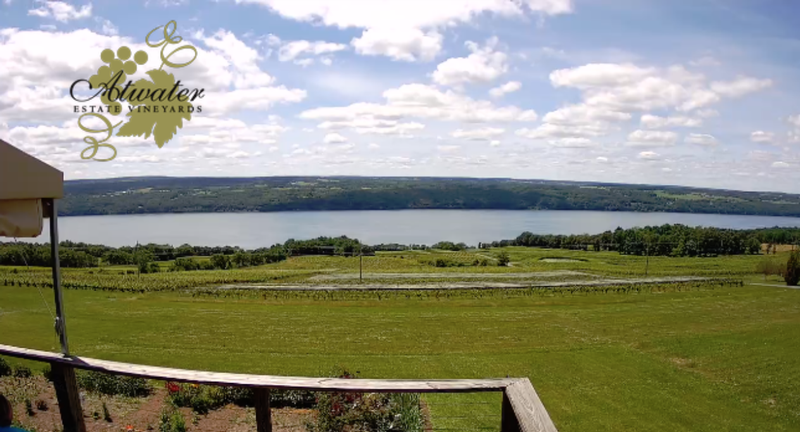 We love July in Finger Lakes Wine Country. Our region offers sunshine and picnics, swimming, boating and waterfall exploration, farm markets, and so much more. It's no wonder that the Finger Lakes Region was named "Best Wine Region" in a nationwide poll by voters in the USA Today Reader's Choice Contest 2018. We're very proud of the quality of wines and the landscape's beauty.

IN THE VINEYARD
Because we've had lots of rain and little sunshine, we're about a week behind normal for this time of the year, but our vineyards are in bloom and starting to set fruit. At this time of year, we focus on the vines and their shoot positioning. Using a hands-on approach, we spread out the vines growing shoots as much as possible on the trellis to keep an open canopy for maximum sun penetration and to improve air circulation.
Additionally, we've placed grow tubes over the new vines we planted in early June. Grow tubes help promote upward growth and protect the vulnerable plants from animal pests. We've also planted a wildflower mix cover cropbetween the vineyard rows containing buckwheat, oats, clover, sunflower, peas, and other seeds that will contribute to a better soil structure by increasing organic content and nutrients including nitrogen and will also protect the soil from erosion.

WINE CELLAR UPDATES
In July, Vinny and George will be bottling our 2018 Sparkling Cuvée, a blend of 38% Riesling, 34% Pinot Gris, and 28% Gewürztraminer, all picked on September 14, 2018, and co-fermented in stainless steel.

Before putting the wine in bottles, they will build up a strong yeast culture, a process that takes five days to complete. Each subsequent day they will monitor and "feed" the culture with a combination of sugar and wine to increase the number of viable yeast cells. Once the culture is added to the base wine with an additional bit of sugar, they'll bottle the wine. There, the yeast will slowly begin a secondary fermentation in the bottle which converts the sugar to carbon dioxide which gives the wine its exhilarating bubbles over a five years aging process.

While you are waiting for this delicious sparkling wine, please try our current méthode champenoise, the Sparkling Gewürztraminer 2013.
Chardonnay 2015
On August 3, National White Wine Day, raise a glass of our Chardonnay 2015. Our Chardonnay will delight your senses with aromas of apricot, peach, and tropical pineapple. Its layered texture offers deep flavors of macintosh apple, vanilla crème, and tangerine.

We love this wine with golden roasted chicken and cream-based pastas. It also complements grilled salmon or butternut squash and mushroom risotto quite nicely.




FROM THE TASTING ROOM
Meet Nora
Our staff is lucky to meet interesting people every day. We consider our tasting room a welcoming stop for local guests as well as travelers from neighboring states, across the country, or around the world. Tasting room hosts are well versed on our wines and the area and are happy to share recommendations about the region.
One of our valued hosts is Nora Lampman who joined our Tasting Room staff in 2013 when she and her husband retired and moved to the area to be near their daughter and grandchildren. She loves the natural beauty of the area and the many new friends they've made.
Her family has had a connection to Atwater since 2003 when their grandchildren's father was a winemaker here, but her job as a Tasting Room host was her first time employed in wine hospitality. With the help of her coworkers, she has enjoyed expanding her knowledge and appreciation of wine. Now, she enjoys sharing that knowledge with our guests, and she also appreciates learning from them as they share their stories from around the world.

The Rosé of Cabernet Franc is her favorite Atwater wine. When not drinking the Rosé, the Cabernet Franc or Dry Riesling is on the Lampmans' table. The next time you visit the Tasting Room, please say hello to Nora!

Wine Enthusiast Mention and Graft wine + cider bar
We are also pleased that Alexander Peartree highlights Atwater as a "noteworthy stop" on Seneca Lake for newcomers visiting the area ("FLX Time," Wine Enthusiast, July 2019). He also mentions Graft wine + cider bar, our restaurant on North Franklin Street in Watkins Glen.
Graft has received many accolades since it opened in Fall 2015. The concept of a bar and kitchen with an all New York drink list and a daily changing menu has been embraced by tourists and locals alike.

Sadly, Graft will be closing on July 27, 2019. Partner and Chef Christina Mckeough is relocating with her family to Philadelphia while co-owners Katie Marks and Ted Marks are changing gears after being in the wine business for twenty years. However, they believe in the constant revitalization of Watkins Glen and look forward to what's coming next in this special space.

ATWATER AFTER HOURS
Thursday - Sun, 5:00 p.m. to sunset
More info: Atwater After Hours.

Don't forget to visit us for After Hours during these long summer evenings! Relax with a gorgeous view, sparkling wine cocktails, and small bites. But, don't take our word for it...

UPCOMING EVENTS
July 13-14: Finger Lakes Wine Festival @WatkinsGlenInternational
July 23-28: Grapehound Wine Tour®, various locations, early-bird check in here at Atwater
July 28: Healthy Food For All Dinner at Sweet Land Farm. Menu by Gola Osteria with Atwater Estate
Vineyards and RedByrd Orchard Cider
July 28: The Vineyard Table - (sold out)
August 4: The Vineyard Table - (sold out)
August 9-10: Farm to Fork Fondo - bicycle tour (pictured above)
September 1: Club Exclusive - The Vineyard Table