October 15, 2019 | Newsletters | Atwater Vineyards
The Atwater Times - October 2019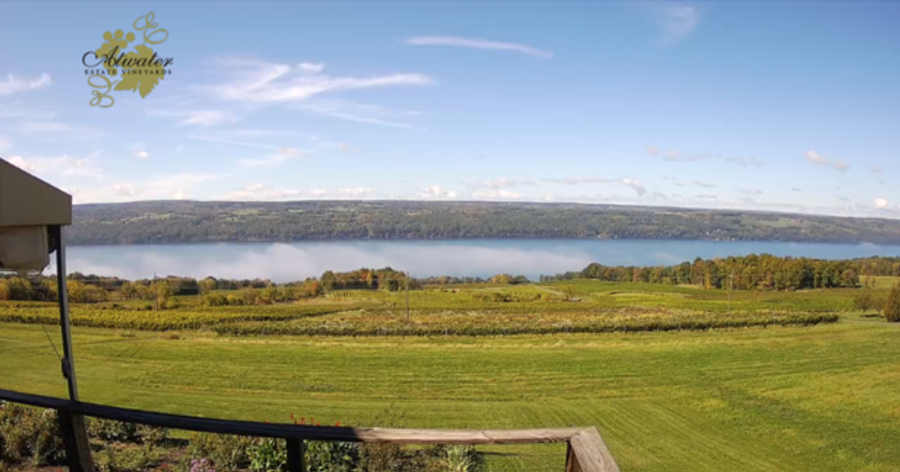 Be sure to tune in to our LIVE webcam to watch the seasons change.
Harvest 2019 began on September 24, with staff from the tasting room and office joining the winemakers and vineyard crew to hand-pick an acre of Grüner Veltliner. The vines were planted three years ago, and this was their inaugural harvest. Grüner Veltliner translates to "Green Wine of Veltlin" and is a white wine grape variety grown primarily in Austria. The flavor profile is similar to Sauvignon Blanc or Pinot Blanc. We look forward to seeing what Vinny and George do with this new to us varietal.

Follow our harvest progress on Instagram and Facebook.
---
IN THE VINEYARD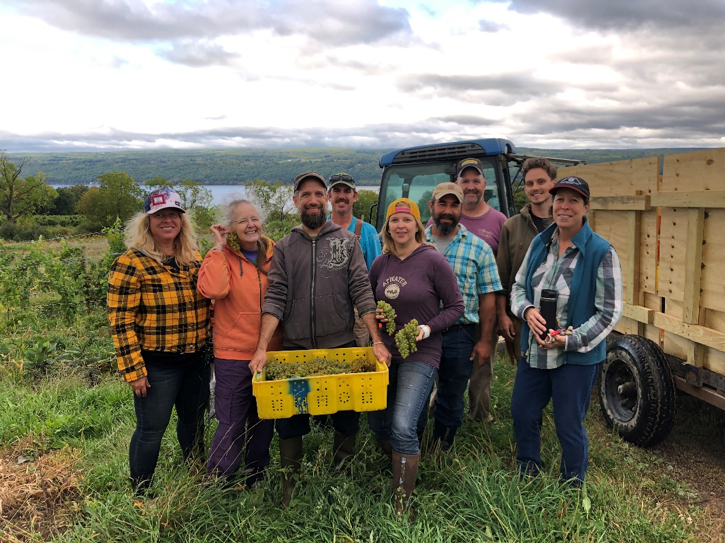 Since the first pick, we've been harvesting steadily, and the fruit quality is good though a little on the light side of our estimated tonage. Climate is one of the most critical aspects in ripening fruit to achieve optimum characteristics in a wine style. With warm days and cool nights the weather this year so far has been beneficial for the crop. We expect harvest to go non-stop until the middle of October as grapes are still ripening on the vine.

As winemaker Vinny Aliperti notes, "Wine production is truly a team effort that starts in the vineyard winds its way into the cellar and pops out on the shelf or dinner table. It takes many dedicated people to bring a quality product to fruition." This collaboration is especially critical during harvest as grapes move from the field to press deck and cellar. To harvest grapes at optimal ripeness, the vineyard staff and winemakers assess the grapes' acidity and sugar level.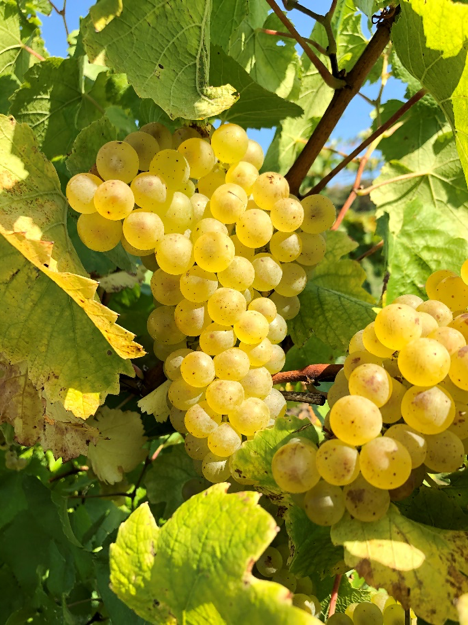 As of October 6, we've harvested Grüner, Cayuga, Pinot Noir, Pinot Gris, Chardonnay and Gewürztraminer grapes, and next we'll be picking Blaufränkisch, Merlot and Riesling. Last off the vines will be Vignoles.

Pictured: A gorgeous cluster of Chardonnay.
---
WINE CELLAR UPDATE
As soon as we harvest grapes, they move to the press deck where the winemakers process them according to the wine style. With new grapes arriving on a regular basis, they are putting in long days and working weekends to ensure the best tasting wine for our customers.


Pictured: Chris delivers Grüner Veltliner grapes to Vinny on the press deck.


Pinot Noir, one of the early harvested grapes, spent time in bins fermenting and was pressed last week. Vinny and George just moved it to barrels. A separate portion of the juice will also be transformed into Rosé of Pinot Noir which will be carbonated and bottled in the spring as our very popular Bubble Pinot Noir Rosé.
Pictured: George punches down the cap on pinot noir. Carbon dioxide bubbles (released during fermentation) push the grapes, stems, seeds, and clusters to the top of the bins forming a thick cap. Those grapes, stems, and seeds have a lot of magic in them so they need to be mixed back into the juice that sits below to increase skin-to-juice contact and improve flavor, color, tannin, and aroma. This is done twice per day for about 10 days and takes strength as well as balance.
---
New Release

Cabernet Sauvignon-Merlot 2016 has a beautiful ruby color and lightly smoky aroma that gives way to ripe red berry jam and plum flavors while a smooth finish provides hints of bittersweet cocoa. We recommend pairing with char-grilled steaks, braised roasts, or grilled vegetables.

End of Vintage, Last Call!

Be sure to grab these wines before they're gone.
Big Blend 2015 (SOLD OUT)
Chardonnay 2015 (SOLD OUT)

Club Exclusive

Navone Vineyards Riesling 2015

90 points, Editors' Choice
Wine Enthusiast
Aromas of candied lemon peel, yellow blossoms and a slightly savory note translate to the medium-bodied palate. This is lightweight and delicate in feel, with a well-honed mineral edge guiding the mix of citrus and white-fruit flavors on the lingering finish.
-Alexander Peartree

Members, log in to purchase here.

---
FROM THE TASTING ROOM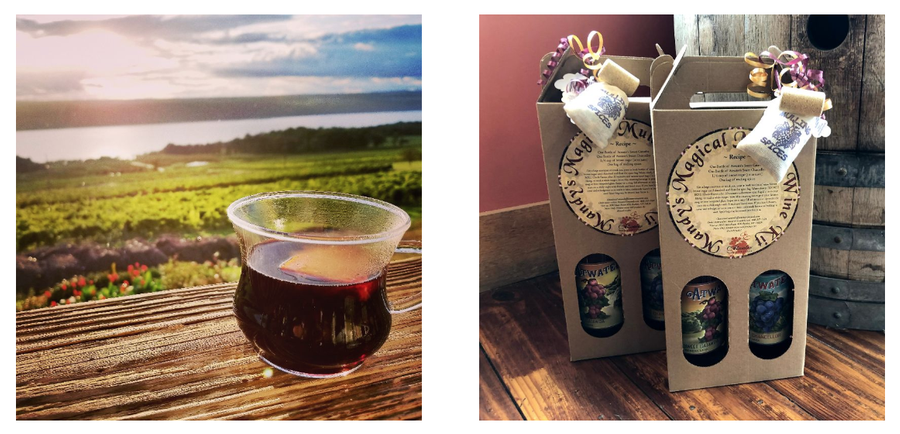 You know it's fall when Amanda breaks out the mulled wine kits and glass mugs for warm and steaming Mulled Wine. Perfect for the cooler seasons, our Mandy's Mulled Wine Kit contains one bottle Sweet Chancellor, one bottle Sweet Catawba, spice bag, and recipe.
---