January 25, 2021 |
Atwater Vineyards


In the Vineyard

Earlier this month, Chris and Mike tore out old vineyards of Chancellor and Vignoles vines so that the fields can rest, ideally for at least two years. This gives us a chance to get any of the perennial plants and weeds out and to help replenish and enrich the nutrients in the soil before they are replanted with grape vines. We will start with a mustard cover crop which acts as a biofumigant and weed suppressor. Our goal is to reduce the nematode population, a root feeding insect that can reduce vine health and productivity. We'll follow that with annual rye to suppress weeds and build organic matter so that our soil holds water and nutrients better, reducing our need for synthetic inputs.

Wine Cellar Updates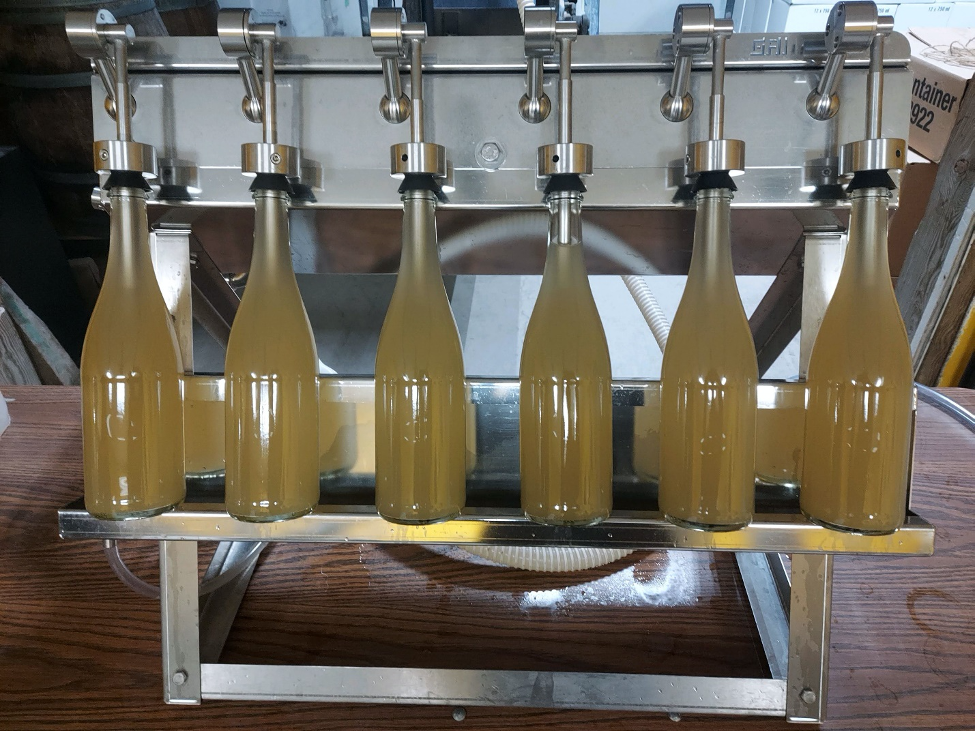 What better way to usher in the new year but with the birth of our Pét-Nat Riesling 2020, bottled just a few days into 2021! As far as other cellar news, we are preparing several wines for their final descent into the bottle, starting with the Dry Riesling 2019, Riesling 2019, and Celsius 2019 (also made from Riesling), all three of which just emerged from a 12-month barrel-aged slumber. These wines along with the 2020 Rosés (Pinot Noir and Blaufränkisch) are all "bottle ready," meaning any adjustments or blends have been completed and all that is left in the way are a few passes through our plate and frame pad filter. If all goes according to plan, we are targeting an end of January bottling run with many more wines to follow!

New Releases

Gewürztraminer and Vignoles were separately harvested, destemmed, and bin-fermented for fourteen days. After pressing, the wines finished malolactic fermentation and were aged separately in neutral French and American oak barrels for thirty months prior to blending and bottling.

This golden, slightly cloudy, unfiltered wine possesses the structure, body, and tannins of a red wine with the acidity of a white. The richly textured mouthfeel with savory and earthy overtones reaches your palate leaving a zing of orange marmalade, grapefruit rind, and dried flowers and creates a complex flavor profile with a long lingering finish.

This was fermented separately in open-top bins for an average of ten days, aged separately for twenty-one months in French and American oak barrels, and then blended prior to bottling. The resulting wine is smoky and peppery upfront mingling with sour cherry and plum. Fine gentle tannins, cedar, and molasses round out the wine and extend the finish.

SHOP NOW

NEW OWNERS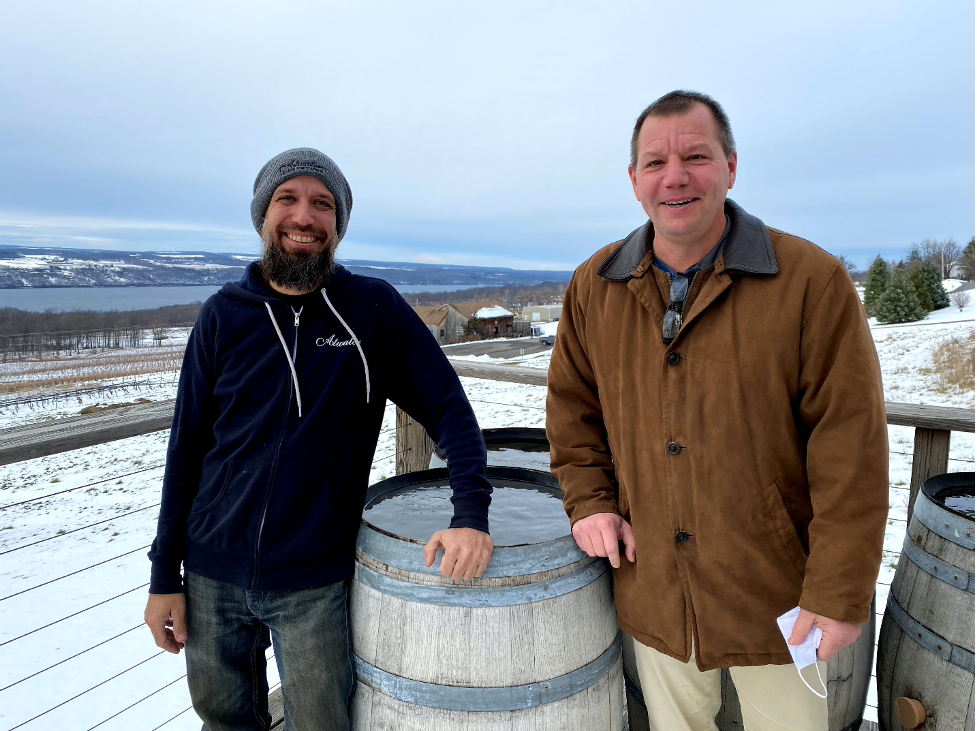 On December 28, Matt Russo and our very own George Nosis completed the purchase of Atwater Estate Vineyards. They are both extremely excited to bring a new vision to the over 20-year legacy established by Ted Marks and his family to strengthen Atwater Estate Vineyards as a premiere destination to highlight our amazing wines, region, and community.

Matt graduated from the Cornell School of Hospitality in 1990 and has worked with Northwestern Mutual for almost twenty-six years where he is a managing partner in New York City. He, his wife Tonya, and younger son Chad live in Connecticut while his elder son, Thomas, is a junior at Cornell University. Matt has been making wine for thirteen years, and for the last eleven years has been searching for the right winery project. When he and Tonya visited Atwater, they knew they'd found the right fit!

George, who started at Atwater in January 2014, has been managing the winery for the past two years as he's worked with Ted to transfer ownership. He has a particular interest in natural winemaking styles and in the red wines of the region.

With Matt and George's complimentary skills and passion for wine, as well as their strategic vision for Atwater, we're excited for the future!
---
staff profile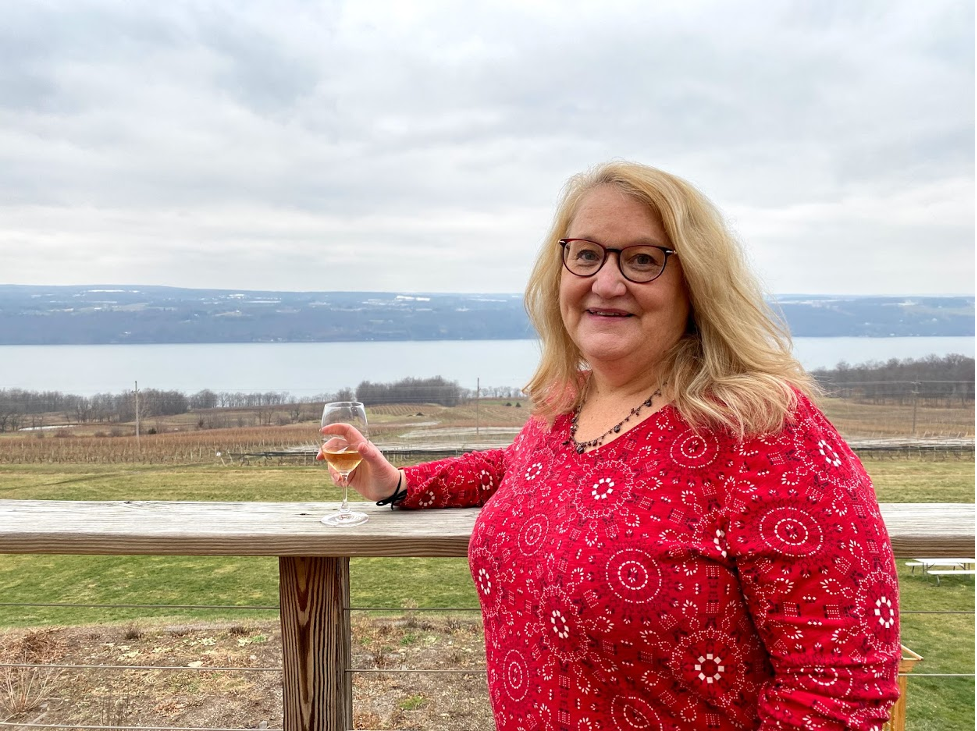 Lynne, one of our amazing tasting room hosts, grew up about an hour from here in Endwell, NY. After grad school, she came to the area for a position at Ithaca College. That blossomed to an almost 30-year career in higher education. The region was a huge part of her decision to stay at Ithaca College: the music, theater, parks, and waterfalls all played a role.

The area wineries have always been a great place for her to take visiting friends and family. Working in alumni relations she also quickly learned that alums loved visiting their favorite wineries when they came back to visit. The department frequently planned tours for reunions and would bring Finger Lakes wines with them to regional and club events.

Working at Atwater, Lynne's enjoyed meeting people from all over the world and finding out what brings them to the Finger Lakes as well as to Atwater. One of her favorite things about working at Atwater is the collaboration among the staff and the willingness of her colleagues to share their knowledge about the grapes, the wines, the winery, and the region.

Although she's only been at Atwater since June, and has only worked under COVID restrictions, she notes that because of various social distancing requirements, tastings are a much more relaxed and personalized experience.

She loves so many of Atwater's wines! Right now, her favorite is the Riesling 2016 because it pairs so well with some of her favorite Thai foods.

The next time you are at Atwater, please say hello to Lynne!
NEW HOURS
Starting January 2, 2021, we instituted new hours in our tasting room. We are now closed Tuesday and Wednesday. Tastings are available Monday and Thursday – Sunday from 11:00 a.m. to 5:00 p.m. You can now make reservations through March 2021.
"Our visits to Atwater are always great. The people working are very friendly and courteous and willing to help when needed. It's always a no-hassle experience."
- Customer Review
---
GETTING OUR WINE
Ground Shipping
Our $10 per case ground shipping. Quantity and club discounts apply.
Curbside Pick-up
Order online and choose the "Pickup" option at checkout. When you arrive, park and call (607) 546-8463 to let us know you've arrived. We'll bring your wine out to you and load it in your vehicle.
Local Delivery
Order wine by noon Monday through Friday for same-day local delivery. Call us at (607) 546-8463 or place an order online and select the "Local Delivery" shipping option. There is a six-bottle minimum and a twenty-five-mile radius delivery limit.

Orders for pick-up or delivery can include specialty food, puzzles, and even wine keys! Browse our selection here.

Club orders will be shipping (or ready for pick-up) in mid-February. If you aren't a member, be sure to join by February 2 to receive the first shipment of 2021.

George will be hosting a virtual tasting of the Winemaker's Selections on Thursday, March 11 at 6:30 p.m. ET. The tasting is free, but we ask you to pre-register. We'll provide a registration link closer to the event.
"As new wine club members, we continue to be so impressed by the fantastic wine selection and incredible Hospitality. Our experience yesterday was nothing short of perfect!!! We will be back very soon."
-Club Member Review

UPCOMING EVENTS
Follow our social media channels and website to keep up with our activities!