January 10, 2014 |
Atwater Vineyards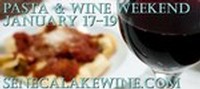 Enjoy a self-guided tour around beautiful Seneca Lake, sampling delicious pasta themed dishes paired with wine at 30 participating wineries. Pick up your gift item at your chosen starting winery then start sampling pasta dishes paired with delicious award-winning wines.

Update: January 18, 2014
A snowy start to our event but no delays. Our recipe is savory and delicious and we are pairing it with our Pinot Bubble a dry, carbonated Pinot Noir. A perfect match for our Butternut Squash Lasagna with Goat Cheese, Sweet Sausage, Sage, and Breadcrumbs. Of course we always serve a vegetarian option at all of our events. Simply omit the sweet sausage and use more fennel and onion if you wish better complexity. Enjoy!

ATWATER ESTATE VINEYARDS PASTA AND WINE RECIPE 2014
Butternut Squash Lasagna with Goat Cheese, Sweet Sausage, Sage, and Breadcrumbs
The combination of sweet-and-savory roasted squash, tangy goat cheese, and fresh herbs brings big
flavor to this lasagna, while the tender pasta keeps things light. Serves 6-8. Delightful paired with our Pinot Bubble wine.
1 large butternut squash (about 3 lb.), halved lengthwise and seeded
1 head fresh garlic, unpeeled
1 sweet onion peeled and cut in half
2 sprigs fresh thyme plus 2 tsp. chopped leaves
2 tsp. extra-virgin olive oil
Kosher salt
Freshly ground black pepper
1 pound sweet Italian Sausage, casings removed
1 small bulb of fennel, diced
1/2 cup diced onion
5 Tbs. unsalted butter
2 sprigs fresh sage
1/4 cup all-purpose flour
3 cups whole milk
4 ounces crumbled fresh goat cheese
1 cup finely grated Pecorino Romano
1/4 tsp. freshly grated nutmeg
1/4 cup coarse panko breadcrumbs
Stony Brook Butternut Squash Seed Oil, (optional) drizzle for more flavor in the breadcrumb topping
1 package fresh pasta for Lasagna, we used Wegmans
Roast the squash and garlic. Position a rack in the center of the oven and heat the oven to 425°F.
Put the squash cut side up on a large, heavy-duty rimmed baking sheet. Put half of the garlic cloves and 1 sprig of thyme in each cavity. Drizzle each with olive oil and then season each with salt and a few grinds of pepper, lay onion on roaster pan, cover loosely with foil. Roast until the squash is browned in spots and very tender, when pierced with a skewer, 45 to 50 minutes. Turn over if necessary. Remove from the oven and let cool completely. Discard the thyme sprigs. Peel the garlic and put in a large bowl with the roasted onion. Scoop the squash flesh from the skins and add it to the bowl. At this point, you can mash it all together or use a food processor gently pulsing till lumps are gone. Season to taste with salt and pepper. Reduce the oven temperature to 350°F.
Brown the sausage in a skillet with the fennel and onion until no longer pink. Drain in a colander and when cool enough to handle, use your food processor again pulsing to break the large clumps of sausage into smaller bits.

Melt 4 Tbs. of the butter in a 3-quart saucepan over medium heat. Add the sage sprigs and cook until the butter is fragrant, 3-4 minutes. Remove the sage and save for the breadcrumb topping. Add the flour and whisk until smooth and golden, about 2 minutes. Gradually whisk in the milk and cook, whisking occasionally, until thickened enough to coat the back of a spoon, about 15 minutes. Stir in the goat cheese, 1/2 cup of the pecorino, the nutmeg, salt to taste, and a few grinds of pepper. Set aside 1-1/2 cups of the sauce and mix the rest with the mashed squash.
Melt the remaining 1 Tbs. butter in a small skillet over medium heat. In a small bowl, mix the breadcrumbs, reserved sage crumbled, chopped thyme, butternut squash seed oil if using. Add the melted butter and mix well.
Assemble and bake the lasagna. Spread 1/2 cup of the reserved cheese sauce over the bottom of a 8 x10 x3-inch baking dish. Cover the sauce with a slightly overlapping layer of cooked noodles, cutting them as needed to fill any gaps. Spread 1 cup of the squash mixture evenly over the noodles then a bit of sausage. Add another layer of noodles and repeat the layers as instructed above. Spread the remaining 1 cup cheese sauce evenly over the top. Sprinkle with the breadcrumb mixture and the remaining 1/2 cup pecorino. Cover the baking dish with foil and bake for 45 minutes. Remove the foil and bake until the top is browned and bubbly, 15 to 20 minutes. Cool for at least 10 minutes before cutting and serving.