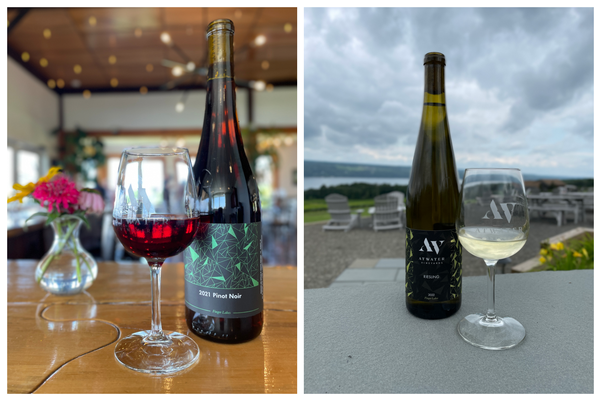 Pinot Noir 2021
100% Pinot Noir
Cases: 119

The Pinot Noir 2021 is a bright spot from the season, and the perfect summer red. The grapes were handpicked and hand-sorted and underwent wild fermentation in open-top bins. They were pressed after fifteen days maceration.

The resulting wine offers aromatics of thyme, dried rose, and cloves that are joined by sour cherries, blue and blackberries, and blood orange. Pair with grilled pork or eggplant and charred vegetables.
Riesling 2022
100% Riesling
Cases: 430

Our Riesling 2022 grapes benefited from a longer hang time on the vine despite the damp days of harvest that caused many to pick early. Harvested in early October and aged on lees in stainless steel tanks for five months, the result is a wine brimming with tropical and stone fruits, bright citrus with a slight pithiness. Lively acidity finds a nice balance with sugar for an extremely drinkable off-dry Riesling. Pair with spice for a refreshing palate cleanser.