September 2, 2014 | News and Upcoming Events | Atwater Vineyards
We're off to the Hudson Valley Wine Festival Sept. 6-7

Hudson Valley Wine and Food Festival, Rhinebeck, NY opens its gates this September 6 and 7 anticipating record attendees and participants eager to taste, test and learn about award winning wines, state-of-the-art distilleries and New York State's growing and trendy food producers. Wineries, distilleries, craft breweries and food artisans from all over New York State will present their wares while everyone from gourmands and oeneophiles to farmers and visitors will enjoy wine tasting and food sampling as well as the demonstrations by well-known chefs. The celebratory atmosphere is enhanced by live music and the anticipation surrounding the judging of the Hudson Valley Wine & Spirits Competition.
Founded 13 years ago by Hudson Valley-based Wineracks.com, the Hudson Valley Wine and Food Fest is held in the Dutchess County Fairgrounds Rhinebeck, New York, a beautiful historic town and area only two hours from New York City by car or train on Metro North and Amtrak. The Hudson Valley Wine and Food Fest is designated as a "New York Farm Market," which allows the participants to hold tastings and sell by the bottle which is an unusual opportunity for visitors to buy directly from the vintners themselves.
Information on how to get there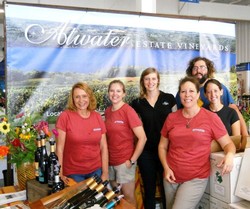 To see if anyone really reads our website posts - mention "A-Team 6" to us at our booth and we will reward you with a special magnetic gift. Thanks and hope to see you there!