April 18, 2020 | New Releases, Newsletters | Atwater Vineyards
The Atwater Times - April 2020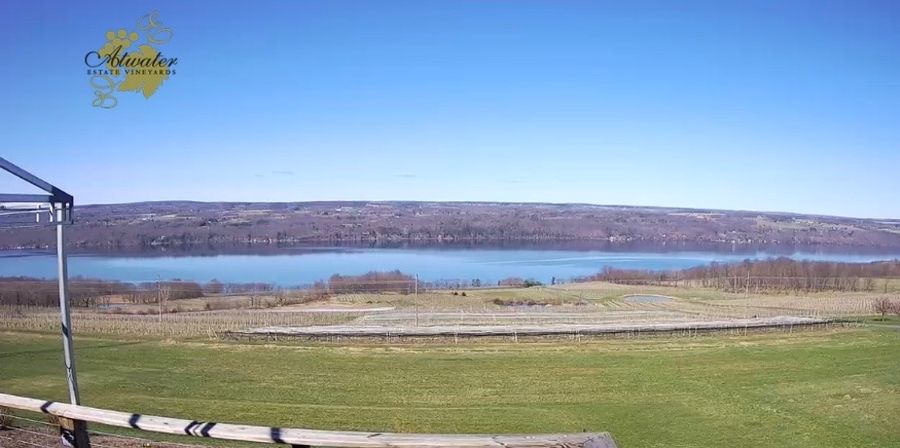 Missing wine country?
Be sure to tune in to our LIVE webcam and visit us from the comfort of your home!

In the Vineyard

Farming does not stop for anything, and we are grateful that we have been designated an "essential" business. In the vineyards, we are well acquainted with social distancing. It is often a solitary job, and even when there are a few of us working, we have a good amount of space between us—we are staying very safe!
Currently, we are working on tying the vines to the "fruit wires." The wires will carry the weight of the fruit as the grapes ripen. We are also in the process of converting some varieties to "improved" trellis systems, which can make tying a bit challenging. When vines are trained a certain way for a long time, it can be difficult to retrain them. We will get them straightened out with a little time and effort.
READ MORE ABOUT VINE TRELLIS SYSTEMS IN OUR BLOG
On a side note, it's been fun having help from winemaker Vinny during the past few weeks. He is getting back to his roots! We've been discussing our hopes and dreams for the vintage in depth which is always fun and productive.

Wine Cellar Updates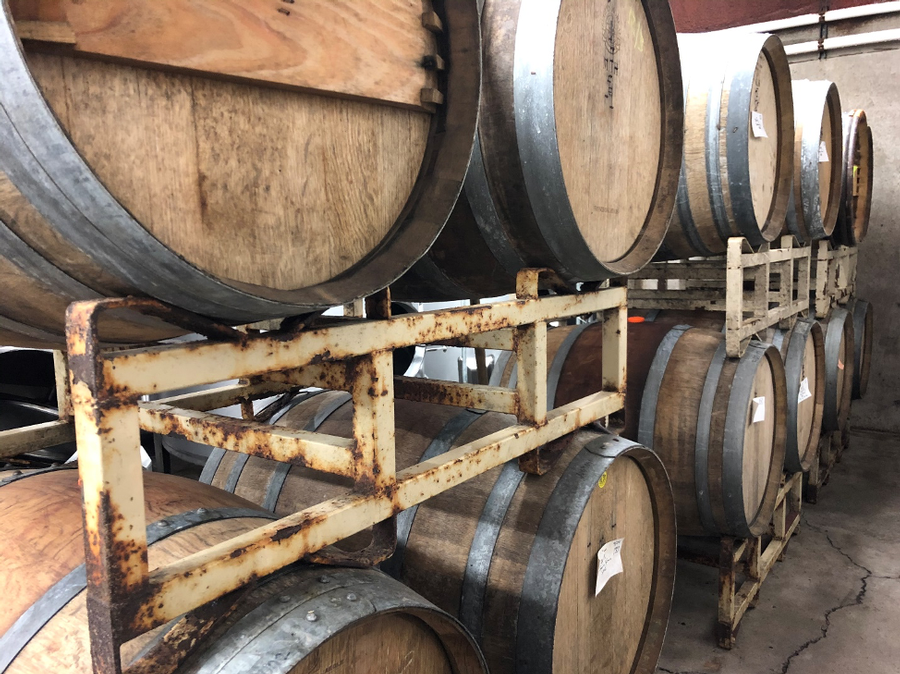 In March, Vinny and George topped the barrels, and now the wine is aging before bottling begins in the summer.
Because wine barrels are porous, the liquid evaporates over time and creates "headspace" which increases the surface area of the wine and makes it vulnerable to oxidation. Topping the barrels replaces the evaporated wine, limiting oxygen contact and inhibiting microbial growth. The winemakers top the barrels with wine held back earlier in the winemaking process.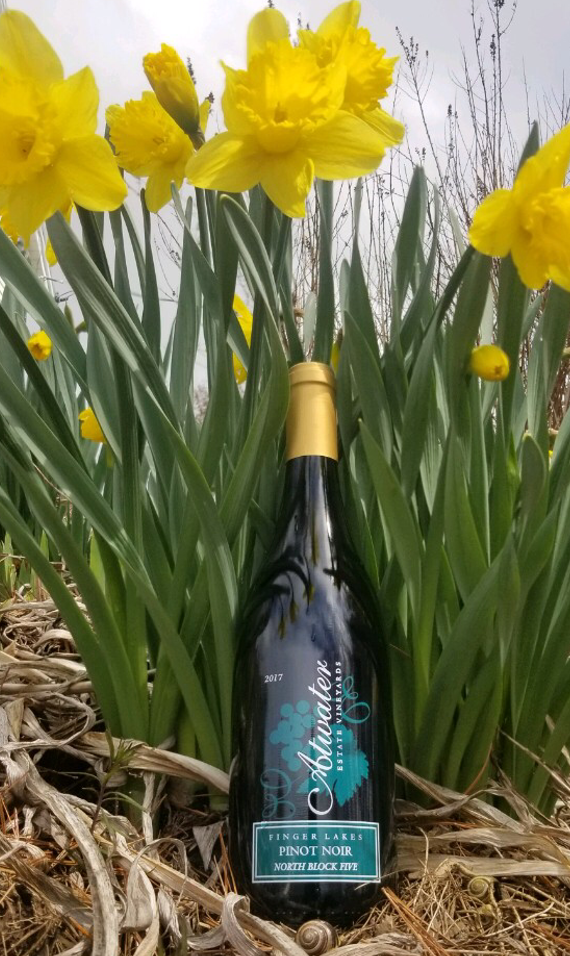 Pinot Noir 2017
New Release
We destemmed 80% of the hand-picked and hand-sorted pinot noir grapes while leaving 20% in whole clusters. They underwent an eight-day fermentation in open-top bins. The wine was then transferred to neutral French oak barrels where it aged nine months. Its resulting deep ruby red color entices you to inhale aromas of violet, spice and cherry cola. Flavors of juicy ripe cherry and cranberry meld into velvety tannins on the finish.
Pétillant Naturel 2019
New Release

Hand-harvested, estate grown Riesling and Gewürztraminer were whole-cluster pressed together in our wood basket press and fermented using a pied de cuve of indigenous yeasts. At 1.4 brix, the wine was bottled unfiltered and allowed to finish fermentation for carbonation. No sulfur was added and the wine has been left on its lees. Light, natural, and fizzy, it has a refreshing, spontaneous style.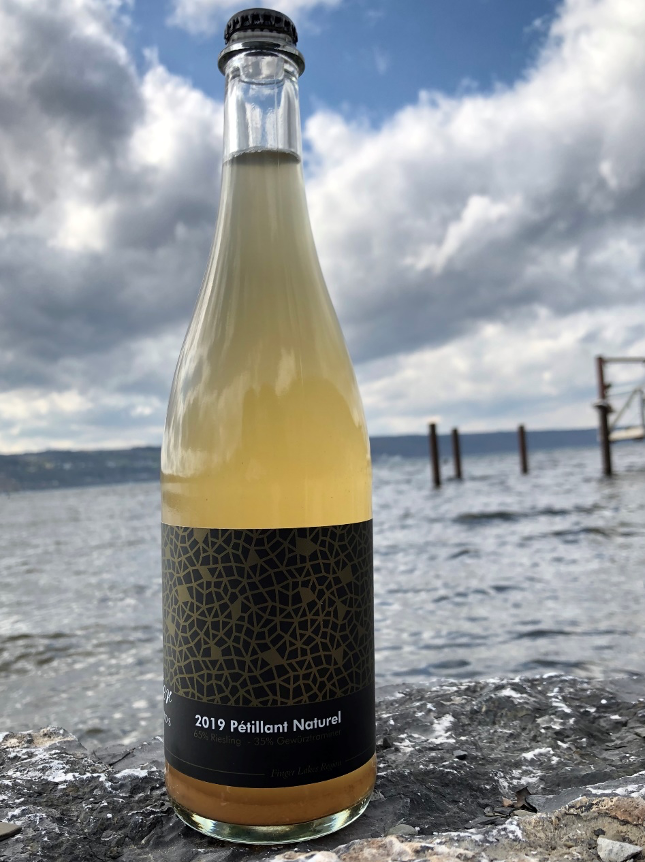 From the Tasting Room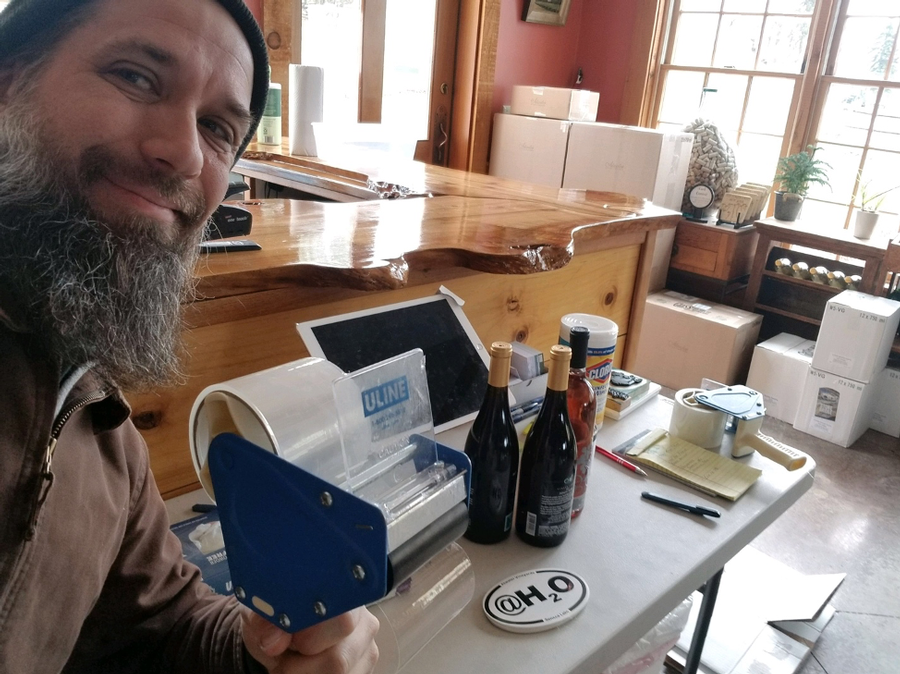 Although we are closed for tastings, we're still busy preparing orders for pickup, local delivery, and shipping, and our tasting room has been converted to a mini warehouse. We are also now able to ship to Arizona and North Carolina!
Ground Shipping
Our $10 per case ground shipping special lasts through the end of April. Quantity and club discounts apply.
Curbside Pick-up
Order online and choose the "Pickup" option at checkout. When you arrive, park in the marked space and call (607) 546-8463 to let us know you've arrived. We'll bring your wine out to you and load it in your vehicle.
Local Delivery
Order wine by noon Monday through Friday for same-day local delivery. Call us at (607) 546-8463 or place an order online and select the "Local Delivery" shipping option. There is a six bottle minimum and a twenty-five-mile radius delivery limit.

Staff Updates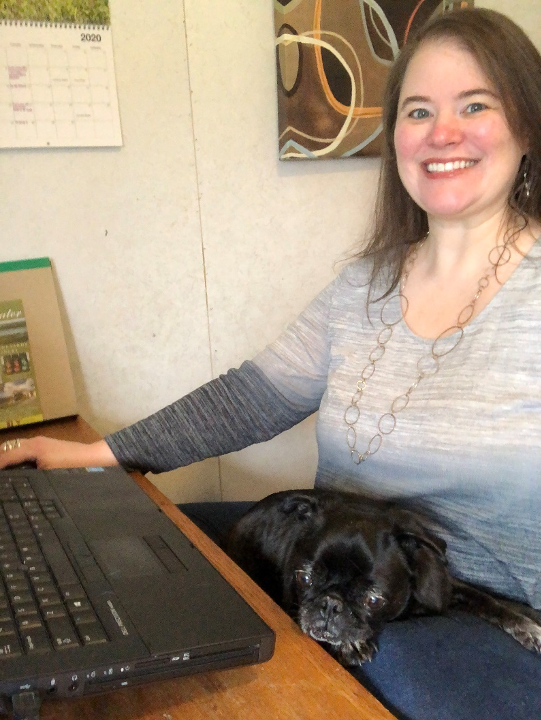 Many of our staff members were out of the area—and Matteo was even out of the country—when the President issued social distancing guidelines. All are healthy, but they're sheltering in place for the time being. Other employees are staggering shifts and telecommuting to ensure a safe and healthy work environment. Some employees working from home have gained new co-workers: four-legged furry friends who don't necessarily respect office etiquette during video conference calls!

Lily had a prime spot on Aimee's lap for the Seneca Lake Wine Trail marketing teleconference.
We'll be bringing you updates on our social media channels about how our staff is weathering the stay-at-home order.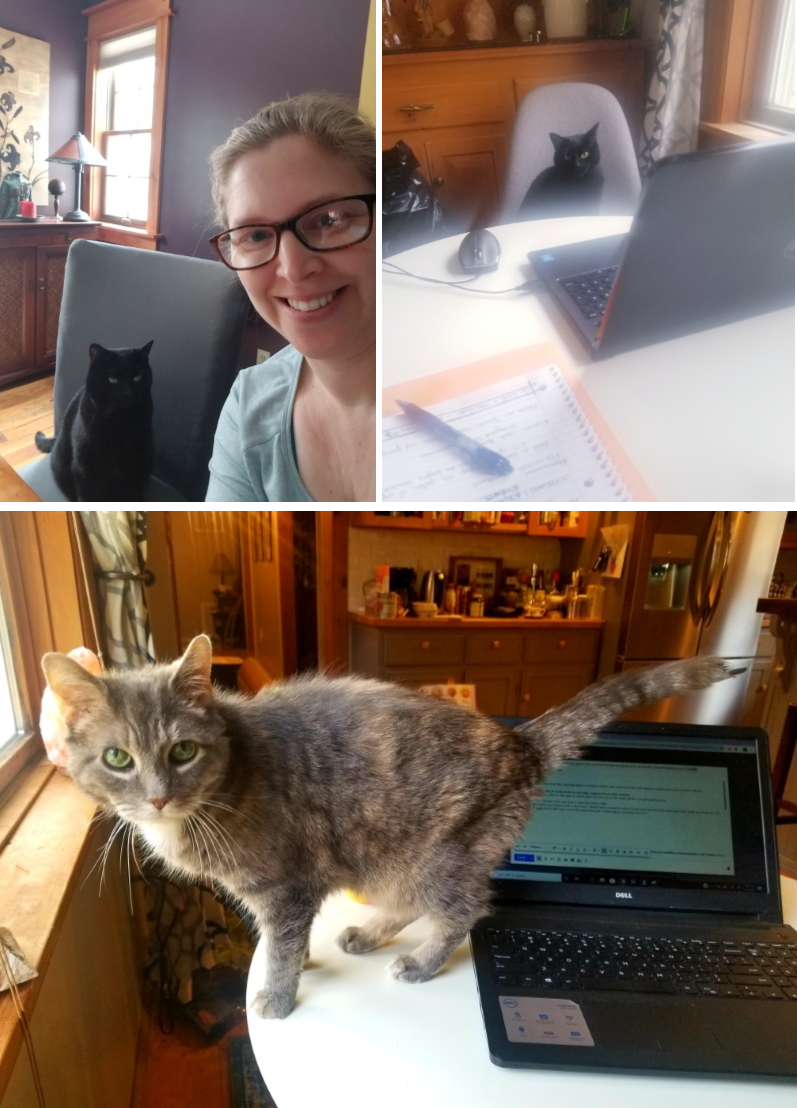 Amanda's new co-worker, Storm, got tired of watching from the sidelines and decided to take over while Bali was upset her favorite break spot in the sun was occupied.

UPCOMING EVENTS
Check out our Events Calendar for the latest events at and around Atwater Vineyards.