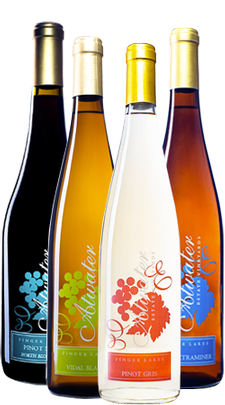 Perfect Dining
Pinot Gris 2017:
Pinot Gris is probably the best-known "white" variant-clone of Pinot Noir and has grayish-blue fruit, accounting for its name ("gris" meaning "grey" in French). The clone of Pinot Gris grown in Italy is known as Pinot Grigio.
Decadent and juicy notes of sweet and spicy orange blossom mix with vanilla crème and tangy white peach flavors. This wine pairs so nicely with flaky white fish, braised and spiced greens and is supreme with fresh Italian cannolis dusted with powdered sugar. BLENDING INFORMATION: 100% Pinot Gris, RESIDUAL SUGAR: .3% ALC: 12.2%
Vidal Blanc 2014:
Crisp and dry, this dynamic wine is a favorite on our farm. Boasting bright natural acidity with bold flavors of ripe peach and pineapple it is wonderfully versatile and well rounded. This wine is a lovely partner with seafood, spicy cuisine and sharp cheeses. BLENDING INFORMATION: 90% Vidal Blanc, 10% Cayuga, Stainless steel fermentation, RESIDUAL SUGAR: .5% ALC: 11.5%
Gewürztraminer 2014:
Meet our very first barrel fermented and barrel aged Gewürztraminer. R2 yeast was used and our most neutral older barrels. We wanted to try something different and out of the ordinary with a small batch to change the typical flavors you get with stainless steel fermentation. The oak aging tamped down some of the traits of heavy perfume and spice.
Dry and complex, this wine shines bright with peach blossom and delicate floral aromas. The cool, slightly tart lychee palate is a thing of beauty. Richly textured with a creamy, caramel-like finish that lingers. This wine begs to be paired with food and it's pairings are numerous. Good with all forms of pork, spicy grilled chicken, Asian cuisine and turkey dinners. BLENDING INFORMATION: 100% GEWÜRZTRAMINER, FERMENTATION: 100% Stainless, RESIDUAL SUGAR: 0.2 % ALC: 13.3%
Pinot Noir 2016:
Pretty violet notes reverberate through this richly concentrated, nuanced Pinot Noir. Dried cherry and blackberry touches are succulent and lip smacking yet anchored by delicate veins of mineral and spice. Fine-grained tannins persist through a long finish. BLENDING INFORMATION: 100% PINOT NOIR, TIME IN OAK: 9 months in neutral French oak, RESIDUAL SUGAR: .1 % ALC:13%