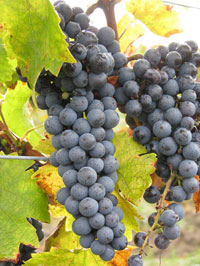 Origin: Probably Bordeaux, but has been linked to the Roman variety Biturica.cabsauv Recent research shows that it has Cabernet Franc and Sauvignon Blanc in its heritage.
New York Introduction: Probably first planted commercially by Konstantin Frank at Gold Seal in the 1950's.
Atwater Introduction: 2005
Acreage: Atwater Estate Vineyards: 1.5 acres/ Total New York: 341 acres
Taste and Aroma Characteristics: Black currant, bell pepper, eucalyptus, mint, black pepper, green olives, tar, cedar, are some of the descriptive terms used when mentioning the flavor and aroma characteristics of Cabernet Sauvignon. Because of the small grape size and high skin-to-pulp ratio, the wine is normally tannic and full-bodied. Capable of aging extremely well and producing wines of immense complexity.
How we use it: Mother Nature is usually the one who determines how we will use "Cab Sauv" from year to year. Currently we've blended this grape with Merlot for our 2007 Cabernet-Merlot blend (a very dynamic duo - we often refer to it as the "Batman and Robin" wine, because they make such a leapin' lizard good pair!)