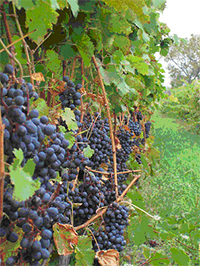 Origin: Long felt to be related to Cabernet Sauvignon, it is now considered possible that it is actually in the heritage of Cabernet Sauvignon.
New York Introduction: Probably first planted commercially by Konstantin Frank in the 1950's.
Atwater Introduction: 1998/2000
Acreage: Atwater Estate Vineyards: 4.2 acres/ Total New York: 341 acres
Taste and Aroma Characteristics: Soft berry-plum-fruit with hints of black pepper characterizes Cabernet Franc.
How we use it: It is a joy to see what Mother Nature will give us so that we can be versatile with our choices for a grape's intended use. If it is a warm growing season and the grapes had ample time to ripen, we typically make a Cabernet Franc varietal with this grape. For the more challenging vintages, we blend our young vines into a Meritage.