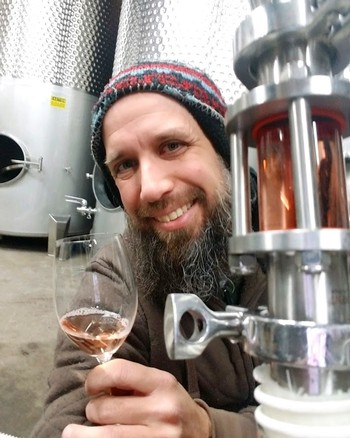 George Nosis
Winemaker/Owner
A native of Hamtramck, Michigan, and received a B.S. in Agricultural Science from Arizona State University and spent almost fifteen years working in the veterinary medicine industry. At VetMed Associates, George was manager and chief of operations, responsible for day to day operations of a veterinary internal medicine specialty center employing five veterinary specialists and twelve support staff.
He switched focus in 2008 when he started working at a Sweet Land Farm, a CSA in Trumansburg, New York. There, he learned the fundamentals of managing a 20-acre farm operation and gained hands-on experience in the fields producing both vegetable and fruit crops. At the same time, he founded a self-financed, small-scale educational winery to explore vinifying techniques of red vinifera varieties from the Finger Lakes Region. During this period, he produced wines from five different vintages to establish his specific style making wine for the region.
Since 2013, George has been assistant winemaker at Atwater Vineyards. There, he has innovated with orange wines, pétillant naturel, revamped the laboratory, and brought his signature inventiveness and determination to the position. In December 2018, he added to his responsibilities at Atwater by overseeing operations, and in December 2020, he purchased Atwater with business partner, Matt Russo.