Wes Andrew
Assistant Winemaker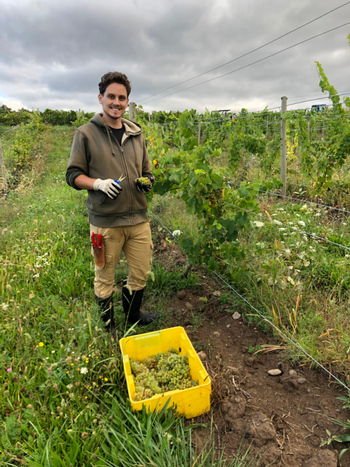 The viticulture and enology program at Finger Lakes Community College (FLCC) along with the cool growing climate what initially brought Wes to the Finger Lakes. He enjoys all of the beautiful scenery, delicious local food, and of course the world class wine! His first experiences with wine and grapes was pruning and suckering in the vineyard at his uncle's winery Owl Creek Vineyard, now named Wichmann Vineyard, located in the Shawnee Hills AVA of Illinois. He didn't consider viticulture and winemaking as a career until his early twenties after he left the classical music industry. Prior to joining the FLCC program he spent a summer back in the Shawnee Hills as a vineyard worker for Blue Sky Winery. Afterwards, he moved to Geneva, NY and started his studies at FLCC, during which he got an internship here at Atwater. He's been here ever since!
The most satisfying feeling he gets is when he gets to see the wine he makes come full circle when it's released to the public. Wes's favorite style of winemaking is traditional method sparkling. One of the first observations he made when arriving in the Finger Lakes was how good some of the traditional method sparkling wines were compared to Champagne and other sparkling wine regions, but also that there was a potential for them to be even greater with the right viticultural and winemaking practices. The long-term aging of the wine on its lees has always fascinated him, along with the complexity and skill required of blending the base wine. Like with any wine, the result of what the winemakers do in the cellar, i.e., blending, aging, choice of yeast, etc. will alter how the wine does or doesn't taste and impact the wine in their own way, allowing for endless possibilities.
Wes's favorite Atwater white wine is whatever our current traditional method wine is, because they're always spectacular. His second choice would be our Dry Riesling. He loves pairing Riesling or any acidic white wine with his homemade Massaman Curry as well as Indian Rogan josh with homemade naan bread. For red wines his favorite is the Pinot Noir or Syrah. He loves to break out the Atwater Pinot Noir when he makes poulet roti or Xian style cumin lamb noodles. Wes is also an avid road cyclist, listens to a wide array of music, ranging from metal to rap to classical, and loves to cook.