Vidal Blanc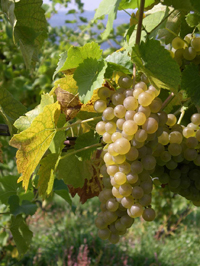 Origin: A cross of Ugni Blanc and Rayon d'Or, Jean-Louis Vidal developed Vidal Blanc in Bordeaux in the 1930s.
Atwater Introduction: 1988
Atwater Acreage: 2.58 acres
Viticultural Characteristics: Hardy, vigorous and disease resistant, Vidal is a moderate yielding producer of large, compact clusters.
Taste and Aroma Characteristics: Tends to be fruitier and more Riesling-like than Seyval; also higher in acid and more aromatic, but lighter in body. Probably the finest white hybrid grape for wine production after Seyval Blanc.