Atwater Vineyards is committed to sustainable viticulture practices to obtain healthier vineyards, increase the quality of our wines, and ultimately create a safer environment for ourselves, our neighbors, and Seneca Lake.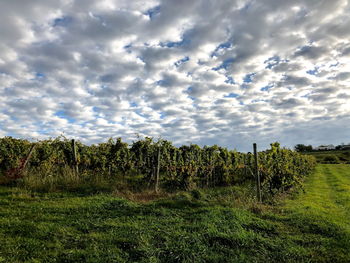 We practice contour farming for erosion control.
We use a post emergent weed program combined with cultivation under the vines.
To ensure healthy soil, each year we evaluate soil and petiole tests to monitor nutrient content of the soil and vine nutrition.
We compost our grape waste from the winery and spread the resulting compost in the vineyards.
We mulch some row middles with round bales of straw and disc and replant a sod cover to aerate the soil, reduce compaction, and improve root growth.
When needed, we use our pond for spot irrigation.
We purchase solar power through Wallace Farms, LLC.
We are currently participating in The New York Sustainable Viticulture Program, a grower self-assessment workbook that is designed to both document sustainable grape growing practices already in place and promote sustainable practices throughout the industry.