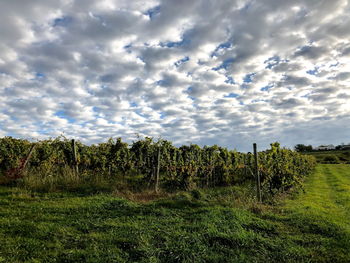 Atwater Vineyards is committed to sustainable viticulture practices to obtain healthier vineyards, increase the quality of our wines, and ultimately create a safer environment for ourselves, our neighbors, and Seneca Lake. We continually strive to reduce our footprint and decrease our environmental impact.
In the Vineyards
The basis for a sustainable vineyard is healthy vines and balanced crop loads. We start with a nutrient management program based on regular and focused testing to make sure that our soils are properly balanced and that fertilizers are only applied when necessary. We then prune our vines and manage our canopies and crop loads to reflect their health in the moment. We are striving for uniform vineyards that produce healthy crops every year. Unevenness or variability is a sign of an imbalance, sickness, or deficiency that we are constantly trying to identify and correct. We endeavor to move toward a low or no till system so that we can preserve and nourish the biodiversity of our microbial populations. We utilize mulch between the rows and compost made on our farm to continue to build and replenish the organic matter in our soils.
Because we get sufficient rainfall every year, we can dry farm our vineyards. However, we also have the disease pressure that comes with that—we have one of the most challenging growing environments in the world. New plantings have extensive drainage installed to allow excess water to be removed from the field. By eliminating the oversaturation in the soil, we encourage better soil health, quicker drying to reduce disease pressure and reduce winter injury. Our investment in infrastructure will help to ensure the longevity, productivity and quality of our vineyards.
To produce good quality fruit, we do have to rely on some traditional fungicides, but we reduce our need for them by relying heavily on canopy management. We trellis our vines and work with them to create an environment that allows for maximum sun exposure and airflow. We have been running trials for several years utilizing mostly biological (non-synthetic) fungicides. As a result, we have been able to incorporate their use into our conventional disease management program, reducing our reliance on more conventional products. Our crew actively participates in a group of local vineyardists who meet regularly to discuss their efforts to move in a more sustainable direction.
In the Cellar and Tasting Room
Beyond the vineyard, we also strive to implement sustainable business practices throughout our facilities.
Cold stabilization of all our tank and barrel aged wines is achieved naturally via our well insulated cellar's ambient temperatures. This allows us to dramatically reduce our electricity usage which would otherwise be used to run glycol refrigeration and mechanical stirrers to artificially chill our wines.
Additionally, we have eliminated the use of caustic soda products in our sanitation program protocol and replaced them with biodegradable sodium carbonate and non-caustic descaling products.
During harvest, we collect all organic waste for composting, and it's later used in the vineyard. All of our wine is vegan. We purchase Eco-Series® wine bottles from our glass supplier, Waterloo Container. These bottles use less raw material, including up to 75% recycled glass, and require less energy to produce and transport.
Many of our wines already have "naked" bottles, and we are phasing out the use of capsules on all of our bottles. Wine capsules are typically made from polylaminate, PVC, or tin, and only tin, the most expensive and least frequently used material, is recyclable. By eliminating the capsule from the bottle, we are reducing waste.
Throughout our buildings, we use energy efficient bulbs, recyclable materials, and recycle, plus we offset our energy use through solar farm Wallace Farms, LLC.