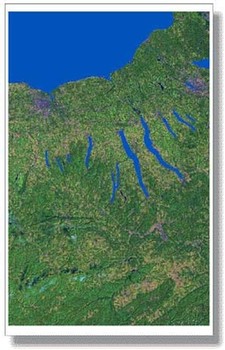 Finger Lakes Org - Laminated
Ask a question about this product
Type: Laminated
Size: 25 x 39 inches
Atwater Estate Vineyards is proud to be the owner of this awesome satellite image that was taken from space of our beloved Finger Lakes area of New York. The image was first commissioned in 1989 by Ted Marks and sold at his store "Bookmarks" in Corning, NY. He sold over 24,000 copies and has shipped them worldwide.
The Finger Lakes from Space poster has been completely revised and is now available for sale through Atwater Vineyards. This new photograph image was taken in September of 2001 and is strikingly vibrant with its colors and higher definition. It has been enhanced by adding county lines, major highways, along with city and town names. We have identified the lakes and their elevations and identified attractions and parks. All this has been done in such a way that when displayed on a wall you are not distracted from the beauty of the original image, but when viewed up close you can pinpoint location information.
The posters are available in paper or laminated. Paper is ideal for framing behind glass, while the laminated is great for a non-glassed frame, or hanging in harsher environments such as workshops and bathrooms!! We also offer a very attractive alternative to a framed poster with a process called "Plak-It". The image is dry-mounted onto a custom piece of high-density press wood, then permanently sealed with a clear vinyl matte laminate. The edges of the plak are beveled and painted a rich deep blue hue, to match the lakes. A slot in the back allows for easy hanging flush to the wall.
Fixed shipping cost $6.00