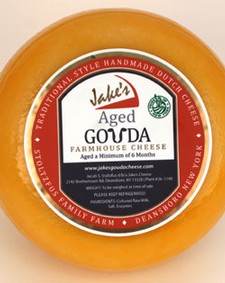 Jake's Aged Gouda Farmhouse Cheese
A cheese made for the true cheese lover. Jake's Aged Gouda is matured at least six months, for a distinct sharpness and saltier finish than it's mild counterpart.
True Gouda needs to breathe so their cheese gets plenty of air. Turned daily on pine planks to ensure uniform age and perfection for at least six months, Jake's Aged Gouda is also a raw milk cheese with no high temp pasteurization. Plus the milk is sourced from their family farm. The results? One of New York's finest traditional style Aged Gouda cheeses!
Once the cheese has been milk cream coated and naturally aged it lasts for 2-3 months on the shelf prior to opening.