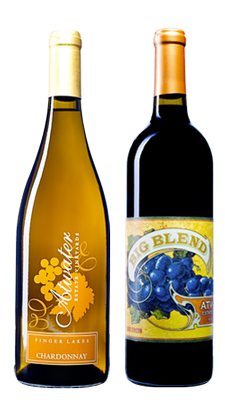 The Classics
Big Blend 2016
Bright and lean upfront with rich earthy tannins that mingle with raspberry and strawberry notes. Smoky cedar and black peppercorn on the palate, the wine finishes with a lengthy, spicy finish.
Blend: Cabernet Sauvignon 34%, Blaufränkisch 23%, Syrah 23%, Cabernet Franc 15%, Merlot 5%

Winemaker Notes
Fermented separately in open-top bins for an average of ten to fourteen days. Aged separately for ten months in French, American, and Hungarian oak barrels and blended prior to bottling.
Chardonnay 2016
Our chardonnay exhibits layered texture with deep flavors of Macintosh apple, vanilla crème, and tangerine.
Forty-two percent tank fermented, 33% skin-fermented for 14 days in open-top bins and 11% barrel fermented. Skin-fermented and barrel-fermented lots completed malolactic fermentation and were aged in neutral French oak barrels for eight months. Final blend assembled on July 31, 2017.