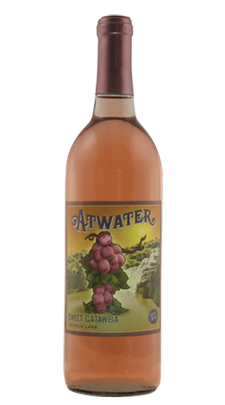 Wine Specs
Vineyard Designation
Atwater, Harris
Harvest Date
October 14, 2016
Bottling Date
March 17, 2017
Sweet Catawba
Wine Profile
Tasting Notes
This pretty pink blend has the old-time flair of the sweet Catawba grape that was first cultivated by settlers in this area two centuries ago. It is a light, fruity wine with strawberry overtones that's perfect with appetizers, picnic lunches and sharing with friends. Serve nicely chilled.
Awards
Silver, New York Wine & Food Classic
Production Notes
BLEND: 89% Catawba, 11% Cayuga
Other Notes
Our labels are inspired by vintage wooden fruit crates. Colorful and bright paper labels have been used to identify products since the early 1880s. Introduced to America by European artists, this profession became known as lithography, the first commercial art. The goal was easy: catch the customer's eye. As the fruit market grew larger each season, immense competition at the local markets erupted. Orchard and vineyard owners used this new concept of lithography to bring attention to their fruit.
Product Reviews
Amber
(Jan 22, 2012 at 3:44 PM)
If you like sweet wines, you'll love this wine. We took a trip to the Finger Lakes last summer, and of all the wines we tasted, this was definitely in my top 3 favorite.
Morgan
(Aug 22, 2012 at 4:38 AM)
Favorite wine at the finger lakes. I have this bottle saved. I'm too afraid to open it because it's that good.
Donna
(Sep 18, 2012 at 2:21 PM)
Took a trip to the Finger Lakes this passed August and visited alot of the wineries and found Atwater, THE BEST!! I love their wines! MUST Try and you wont be sorry!
Michael
(May 31, 2018 at 8:09 PM)
We take a trip to Watkins Glen every August and I always get 2or 3 bottles to take home. It is one of my favorite wines, it's sweet but not to sweet it's just right.