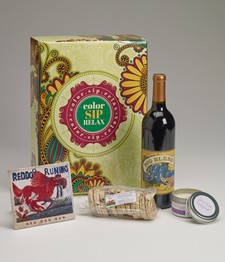 Sip, Swirl, Color
Open this box to find:
(1) bottle of Big Blend 2015, our enormously popular dry red wine, (1) 12 page coloring book illustrated by Tracy Gumtow of Atwater images (1) cd Red Dog Run (Ithaca, NY), (1) 4 oz travel candle, Akenehi (Hector, NY).
Enjoy this keepsake box to store your color projects, pens, marker or whatever you'd like. Featuring a CD with one of our favorite local groups.
Red Dog Run is a group of veteran musicians and old friends who have spent most of their lives exploring the depths of American roots music. Each member brings a rich musical history of their own and a deep appreciation for the traditions from which they've grown. They have performed extensively, together and separately, in projects exploring folk, rock, old time, new wave, country, Celtic, Cajun/Creole, and their own compositions, at clubs, theaters, and festival across the Americas and Europe. In collaboration, they hope to harness that collective inspiration, finding new ways to express the angst and energy of modern life through music.