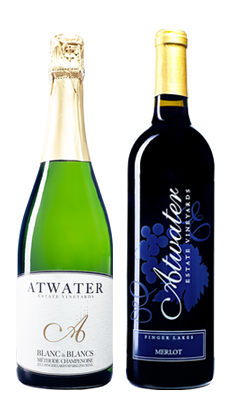 Indulgence
Sparkling Gewürztraminer 2013
Huge floral aromas linger with honeysuckle and rose. Layered, bright flavors of peach and kiwi give way to a citrusy finish.
Blend: 90% Gewürztraminer, 10% Chardonnay
Handpicked, whole cluster pressed, tank fermented with EC1118. 5% barrel fermented. First disgorging after 4 years 5 months in tirage. Disgorging/dosage date: 1/9/2019.
Pan seared scallops with grapes and almonds or arugula salad with goat cheese and prosciutto. In fact, this style is so versatile it pairs with almost any food. Enjoy!
Cabernet Sauvignon - Merlot 2015
This dynamic duo combines the brawn of Cabernet Sauvignon and the suppleness of Merlot.
Blend: 58% Cabernet Sauvignon, 42% Merlot
Machine harvested and hand sorted. Merlot 85% destemmed and 15% whole cluster. Cabernet Sauvignon 98% destemmed, 2% whole cluster. Fermented separately in one-ton open-topped bins with GRE and D80 yeast, Cabernet Sauvignon from October 17 to October 26 and Merlot from September 28 to October 11. Aged in American and French oak barrels for nine and a half months.
The beautiful ruby color and lightly smoky aroma give way to ripe red berry jam and plum flavors while a smooth finish provides hints of bittersweet cocoa. Pair with char-grilled steaks, braised roasts, or grilled vegetables.