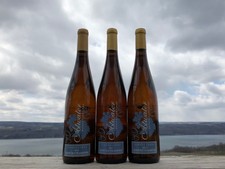 Gewürztraminer Vertical
Limited Edition
Only 24 three-packs available
Shipping included
No additional discounts apply
Virtual Tasting
To celebrate the release of this special collection, we are hosting an exclusive virtual tasting with George as he discusses the history of Gewürztraminer in the region and highlights the characteristics of each of the 2010 through 2012 vintages and how the growing season impacted the flavor each year. You will also have a chance to ask any questions you have about the wine in this interactive event.
The virtual tasting is free, but we do ask you pre-register here.
We look forward to seeing you online and enjoying these Gewürztraminer wines with you!
2010
The warmest growing season in thirty-seven years resulted in a harvest that was two or three weeks earlier than normal while the hot, dry weather in summer and early fall produced clean, excellent fruit quality.
2011
The 2011 growing season started with a rainy April and May, but by June, warm, dry weather dominated. As the first rains arrived in August, they came as a relief, helping vines recover. But the rains continued persistently through September and the vineyards could not dry out. The abundant crop yields had lower brix and moderate acid.
2012
Uncharacteristically warm temperatures in early March initiated premature bud break. April followed with a series of severe frosts that caused almost total loss to the region's apple crop, but our vineyards survived with little damage. Rain was scarce through mid-July, and the heat index was higher than average for the third year in a row. We avoided drought, and the lower than average rainfall decreased disease pressure. Harvest began and ended about three weeks earlier than normal with overall lower yields and excellent quality.