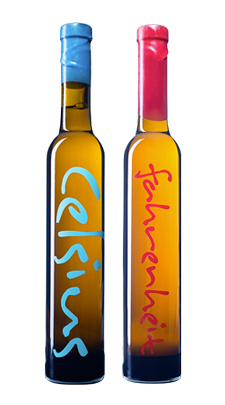 Sweet Endings
Fahrenheit:
Introducing a new way to enjoy Bordeaux Reds. Delicately sweet with flavors of raspberry juice and strawberries, enjoy chilled with goat cheese and dried fruits, molten lava cake or a slice of strawberry rhubarb pie.

Estate grown 50% Cabernet Sauvignon, 50% Cabernet Franc. Handpicked on October 28th, the grapes were quickly frozen than whole cluster pressed on October 31st. Each oneton load yielded an average 65 gallons of juice. The juice was cold settled, racked and inoculated with R2 yeast. 85% tank fermented and 15% barrel fermented. Residual Sugar: 18.5% Alcohol: 10.3%

Celsius:
Indulge yourself in the enchanting flavors of this luscious "iced" wine style. Abundant aromas of pineapple and peach are joined by tropical flavors of mango and papaya, delivering an opulent mouth feel. This is dessert in lush, liquid form.
Featuring Gewürztraminer as a dessert wine. Floral and spice marry beautifully with the tropical notes of Vignoles. The raisin like, late harvest grapes are hand-picked in 30 lb lugs and placed in a freezer for a week or so. We whole-cluster press the grapes releasing the sugary nectar. The juice then goes through temperature controlled fermentation in stainless steel tanks to preserve the complex flavors. BLENDING INFORMATION: 72% Gewürztraminer, 28% Vignoles Residual Sugar: 17.5% ALC: 10.9%