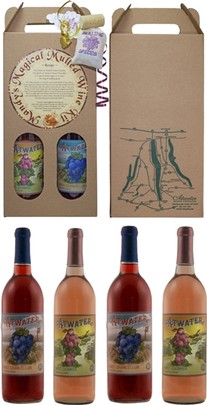 Mulling It Over
Six bottle discount @ 10% will be applied
The mulled wine spice bag can be used for three batches. Just place it in the freezer for your next round.
This kit contains:
3 bottles of Sweet Catawba, 3 bottles of Sweet Chancellor, 1 spice bag, 1 printed gift box with the recipe.
Sweet Catawba:
This pretty pink blend has the old-time flair of the sweet Catawba grape that was first cultivated by settlers in this area two centuries ago. It is a light, fruity wine with strawberry overtones that's perfect with appetizers, picnic lunches and sharing with friends. Serve nicely chilled.
Blending Information: 75% Catawba, 15% Cayuga, 10% Niagara. RESIDUAL SUGAR: 5.5%, ALC:11.8%
Sweet Chancellor:
A sweet red wine lover's dream. Deep purple color, rich body, tannic, framing flavors of jammy plum and cedar. This wine is used in our mulled wine recipe and pairs well with grilled meats like lamb and burgers or your favorite pizza. Blending Information: 75% Chancellor, 25% Cayuga. RESIDUAL SUGAR: 6%, ALC:13.2%
Product Reviews
Brenda McDonald
(Jan 1, 2017 at 8:41 AM)
This mulled wine was perfect for ou snowy New Year's Eve celebration. Delicious sweet wine with added spice!