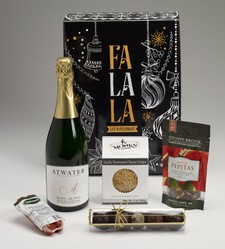 Celebrate! Taste the Finger Lakes
Our Celebrate! gift box contains the following Made In New York items:
(1) bottle Blanc de Blancs 2013 sparkling wine, (1) Battistoni Classic Sweet Italian Salami with Wine, 10oz (Buffalo, NY), (1) Battistoni Pepperoni Snack Sticks, 4oz, (1) Monks' Asiago Cheese Crisps 3 oz, (Piffard, NY), (1) Holly Jolly Java Bark handcrafted chocolate (Penn Yan, NY), (1) maple pepitas - brined pumpkin seeds drizzled with NY maple syrup Stony Brook Wholehearted Foods (Geneva, NY), (1) Atwater Estate Vineyards 2x3 refrigerator magnet.
This gift box contains a special wine that was begun in our vineyards during the growing season of 2013. Our mature Chardonnay vines consistently produce sturdy and reliable fruit each year. Hand-harvested Chardonnay was 90% whole cluster pressed and 10% skin fermented. The secondary fermentation was inoculated with DV10 and allowed to mature on yeast lees for 18 months before disgorging contributing to the wine's delicate, opulent bubbles. Sample trials done in Dec. 2015 showed the wine to be balanced and refreshing so we opted out of any additional sugar dosage treatment. The term for this is "Brut Nature" or "Zero Dosage" denoting the very driest style of sparkling wines with less than three grams of residual sugar per liter of wine.