September 16, 2020 |
Atwater Vineyards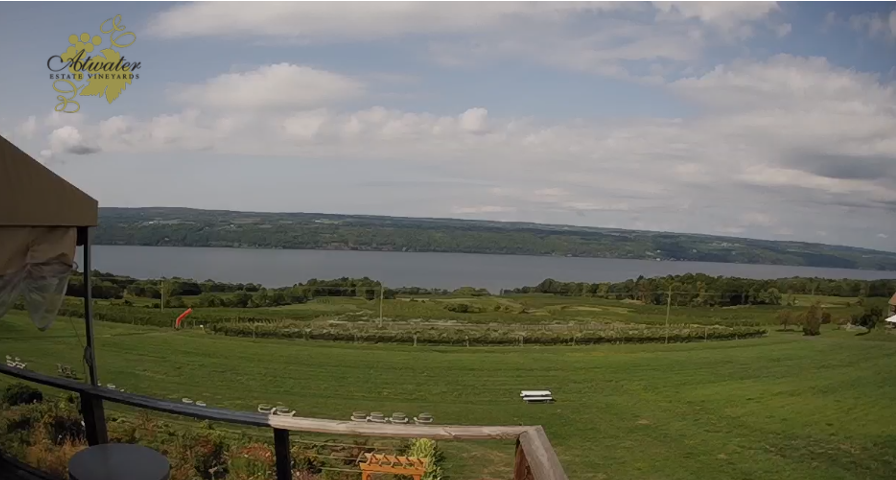 OFFERING TASTING RESERVATIONS THROUGH 10/31

In the Vineyard

As of yesterday morning, harvest is underway with Vignoles and Grüner Veltliner first to the press deck.
We finally got a good dose of rain, which will help the vines function well as the ripening process finishes. Although drier weather is usually helpful, our site has been a little drier than we would like. We had only gotten 2-1/2 inches of rain from the beginning of June until a couple of storms the last week of August, about a third of what we would normally expect in that time period.
Despite the dryness, the vines have held up robustly, and we are busy preparing for a high-quality year.

Wine Cellar Updates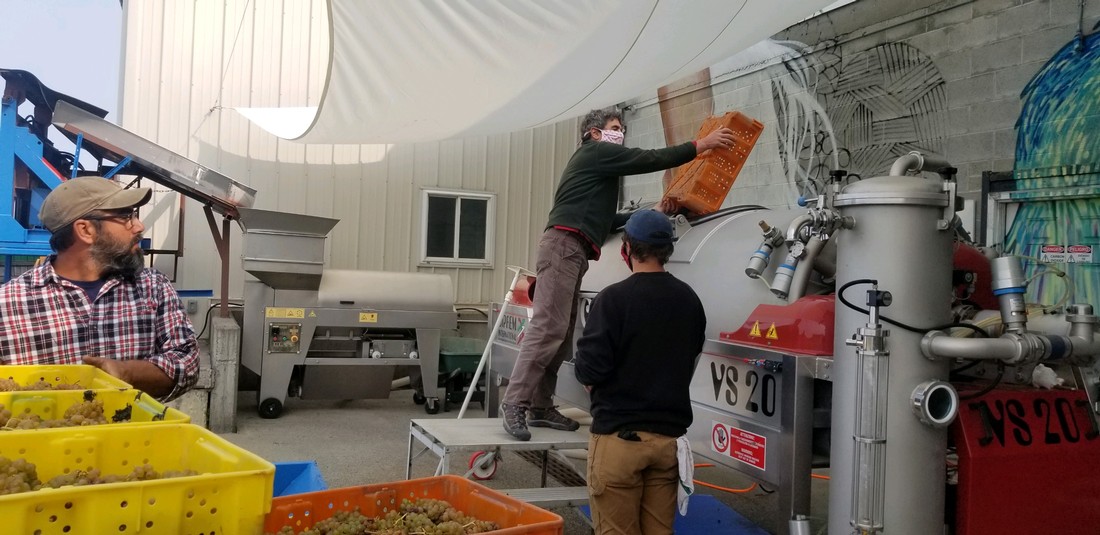 The last of the 2019 reds have completed their journey from barrel to bottle, including estate-grown Cabernet Sauvignon, Syrah, and for the first time at Atwater, a blend of Blaufränkisch and Cabernet Franc! Now with the barrels and tanks emptied, all eyes and hands are focused on the upcoming harvest season.
We are excited to Wes Andrew back to our winemaking team this year. Wes, our 2019 harvest intern, spent the 2020 growing season in the vineyards and will now be joining us in the cellar to transform our grapes to wine.
Thanks to a very warm and dry summer, we are having an early start to the vintage with grapes starting to arrive on the press deck starting in mid-September.

New Releases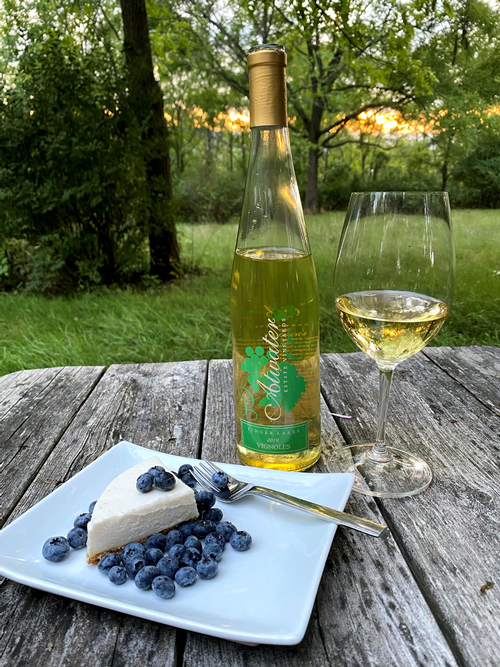 Vignoles 2019
New Release
Hand-picked and whole-cluster pressed with 75% botrytis, the Vingoles was aged in stainless steel tanks for eight months.
With a light straw color, this medium-sweet wine packs complex aromas and flavors of honey, tropical fruit, and caramel apple.
It's bright and silky with acidity that balances the finish. We enjoy a cool glass with a spicy Thai dish or a nice cheesecake.

PURCHASE NOW

From the Tasting Room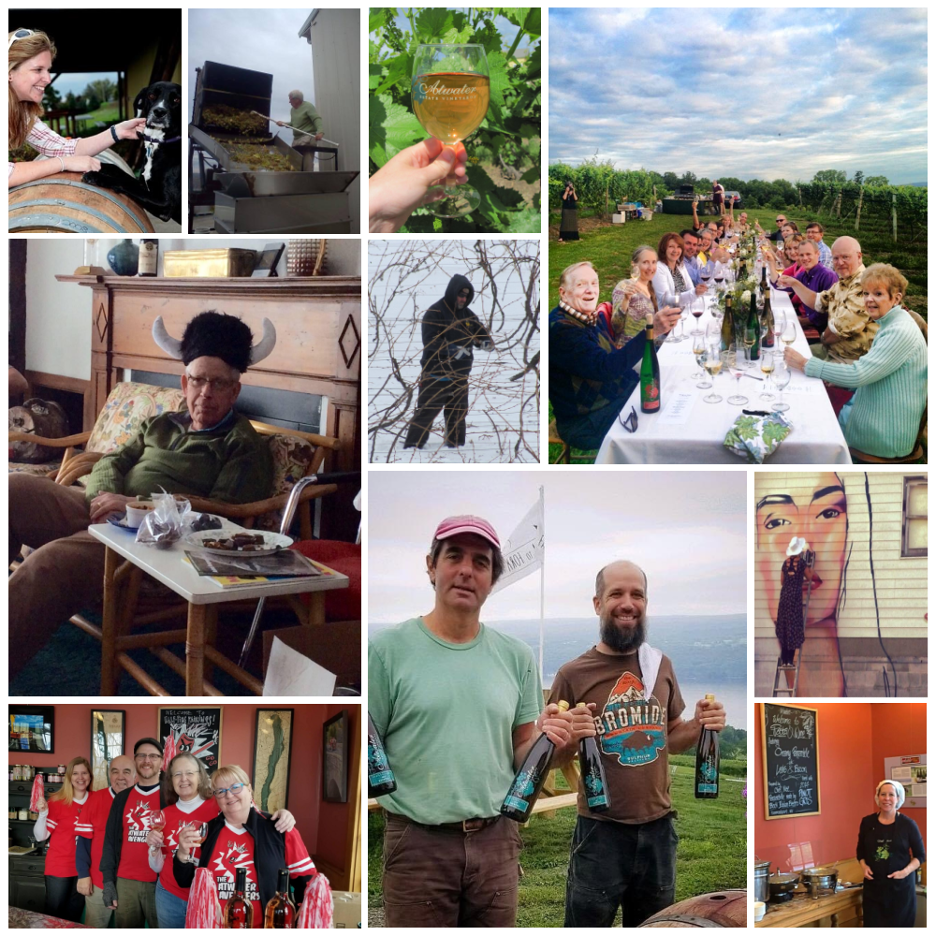 Twenty years ago this month, Ted Marks purchased the former Rolling Hills Farm Winery, and Atwater opened its doors for wine tastings and sales in September of 2000 with the help of his daughter, Ann, and former son-in-law, Phil Hazlitt.
We couldn't be prouder to celebrate twenty years of bringing you excellent wines—something we couldn't do without our excellent staff or our loyal customers, many of whom have supported us for years.

Vinny Aliperti, winemaker, sums up our feelings about the future: "I am excited to see what the next twenty years will reveal: I'm confident that Atwater's best days are still ahead!"

Thank you to those who shared your memories of Atwater:
"2005 was a very lean year for Finger Lakes grapes, Riesling in particular at a time when Riesling was "the" marketable grape that was going to define our region. The winter of 2004 was marked by widespread winter injury so we knew 2005 would be a recovery year. As it turned out it was the hottest growing season since 1991 with drought conditions. The crop estimates were way under normal. At the end of August the remnants of Hurricane Katrina gave our vineyards a much needed soak thus increasing berry size. With the heat and sunshine through September our Riesling crop was much less than normal but was of "Reserve" quality. We gathered all employees and family and hand harvested all of our Riesling as it was a precious crop. Not a berry to be missed. This wine was entered into the The Canberra International Riesling Challenge and won top honor: Atwater's 2005 Reserve Riesling Best North American Riesling. A proud day and delicious vintage!"
—Denise Clappier, Office Administrator
---
"I love working someplace where the staff feels like family and we treat each other with respect and kindness. To have made lifelong friends with so many of the wonderful customers that come in to enjoy and purchase, but also to catch up like old friends. To be able to enjoy the sunset and everyone and everything stops to capture that moment in time to hold in our memories like each sunset is the first. From birthday gatherings, boat rides, and tasting excursions. Working long exhausting festivals and having a smile on our faces when we are done. Lending a helping hand during harvest or wherever is needed to make Atwater a success. . . Now being in charge of a great staff that makes me proud every day, not just for their great customer service skills, but the way they roll with the punches, pivot when needed, help each other out without being asked, and always have a smile on their faces. I have watched Atwater grow these last 18 years and can't wait to see what is up our sleeve in the future."
—Amanda Gumtow, Tasting Room Manager
---
"A special memory for us was hosting a pre-wedding celebration with friends and family at Atwater the night before our wedding. People still talk about how much fun they had and the amazing sunset they experienced with a glass of wine in hand. Amanda and staff helped to make the night so personal with little touches. The next day we were able to have our first look at Atwater and our wedding toast was with Riesling Bubble. I guess you could say Atwater has become part of our family."
—Greg and Michelle Shippos, Club Members
---
"I don't know if I can say I have only one favorite memory of Atwater because over the past 19 years the ongoing experience of visiting has been a highlight adventure I look forward to annually. I do have to say that being introduced to many new vintages in recent years, like your Blaufränkisch, Cabernet Merlot and Pét-Nat, were a near orgasmic experience. Never a dull moment and always a fantastic time."
—Debbie D., Club Member


NEW BUSINESS HOURS
Our new hours are 11:00 a.m. to 6:00 p.m. daily for both wine tastings and al fresco service.
Tastings are offered by reservation only. We are now accepting reservations through October 31, 2020. During these tastings for up to four people, one of our experienced hosts will present your choice of five wines along with cheese and crackers. You'll learn about the winemaking process, the vintage, and the special characteristics of our estate.
Enjoy wine by the bottle or glass, wine cocktails, and small bites in our outdoor seating area through mid-October.
GETTING OUR WINE

Ground Shipping
Our $10 per case ground shipping. Quantity and club discounts apply.
Curbside Pick-up
Order online and choose the "Pickup" option at checkout. When you arrive, park and call (607) 546-8463 to let us know you've arrived. We'll bring your wine out to you and load it in your vehicle.
Local Delivery
Order wine by noon Monday through Friday for same-day local delivery. Call us at (607) 546-8463 or place an order online and select the "Local Delivery" shipping option. There is a six-bottle minimum and a twenty-five-mile radius delivery limit.

Orders for pick-up or delivery can include specialty food, puzzles, and even wine keys! Browse our selection here.

CLUB HOUSE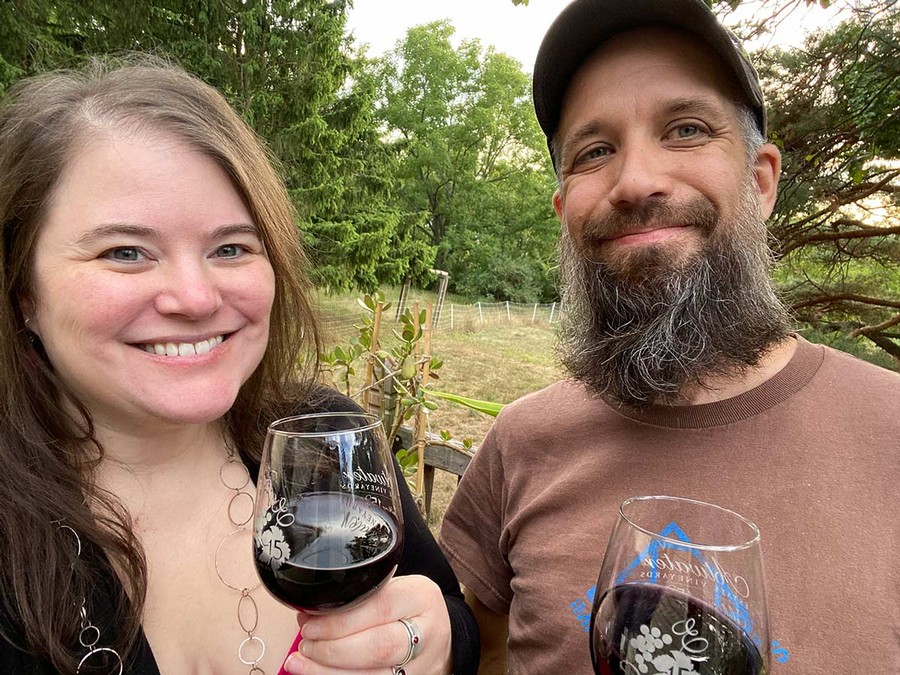 One benefit of wine club membership is access to extremely limited library wines. We've just released two of these wines with fewer than 25 bottles each to club members.

Big Blend 2011

Pinot Noir 2008

UPCOMING EVENTS
Follow our social media channels to keep up with our harvest activities!