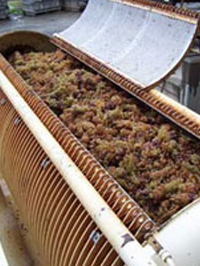 Origin: Developed by J.F. Ravat, a French hybridizer who began his work in 1929. It is a cross between Pinot Noir and a Seibel hybrid.
New York Introduction: Possibly through Philip Wagner in Maryland.
Atwater Introduction: 1978
Acreage: Atwater Vineyards: 2.2 acres / Total New York: 83 acres
Viticultural Characteristics: Hardy, late ripening and moderately vigorous vine. Moderate yielding with small, compact clusters. Susceptible to powdery mildew and bunch rot but also capable of acquiring "noble rot" and producing excellent late harvest wines.
Taste and Aroma Characteristics: Aromatic, tropical fruit nose, somewhat one-dimensional. Fruit carries through to flavor. Natural high acidity must be balanced with sweetness. Late harvest wines have a strong aroma of apricot. As a fruity wine that is almost always produced in a sweet style, the demand for Vignoles is growing due to numerous awards in major competitions of late harvest and ice wines.
How we use it: Depending on Mother Nature's mood each year (and never the winemaker's mood…ever…) we either make a delectable late harvest wine with this precious hybrid, or have used it in our sweet Celsius iced wine.