Sam Ehrenreich
Hospitality Manager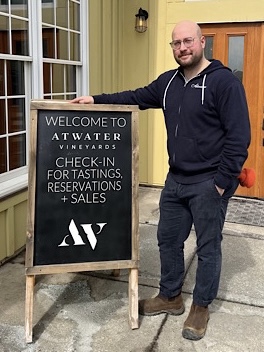 Sam moved to the Finger Lakes to be closer to his girlfriend Rachel and, of course, the wine trails. He thinks the region is beautiful and unique and enjoys hiking the lovely Gorge and Finger Lakes Forest trails, foraging for edible plants, and learning all about cool climate viticulture, and vinification. Sam has always had an interest in wine. Working in various restaurants and bars gave him a great base of knowledge to build on.
Over the last few years, he has taken more of an interest in home winemaking using Finger Lakes fruit. He believes the Finger Lakes has lots of potential as a region and continues to make world-class wines we can all get excited about. From the first time he met the team at Atwater, Sam knew he would be joining a very special community that has created a fun, inclusive, hospitality-centered experience.
Sam really likes being outdoors, and when he has the time likes to go hiking, foraging, skiing, boating, shooting, golfing, and fishing! He enjoys reading, being lazy on the couch, and tending to lots of houseplants in his downtime. Sam tries to build sustainable habits and be more eco-friendly in his everyday life. He thinks it's important for people to try and make an effort to be conscious about how the things we do affect the world at large. All the more reason to buy locally and support small businesses!