Al Fresco Dining in Atwater's Vineyards 2019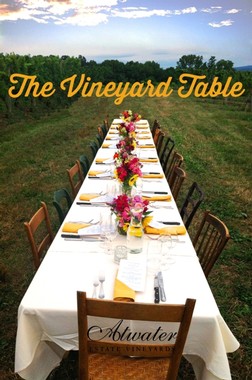 The Vineyard Table, Another Great Year!
On September 1, our club members and winemakers, Vinny and George, had a wonderful time at the last Vineyard Table of the season. We celebrated our library wines paired with delicious dishes crafted by the Red Dove Tavern. We appreciate everyone who has joined us for these magical evenings. Please plan on joining us next summer to enjoy delicious food and wine in the heart of our vineyard. Watch our newsletter next spring for the new dates.
Rune Hilt & Giulietta Racciatti of The Red Dove Tavern in Geneva have created the most fun and creative dinners. Themed menus with a spin on food and wine pairings are delightful.
Photo Gallery
Photogallery rendered here.
Nestled in Atwater's beautiful vineyards overlooking Seneca Lake is a sweet spot with a table set for 24 guests. Delectable menus that focus on local and seasonal ingredients are thoughtfully paired with Atwater wines. Meet our winemakers, learn about the chefs and the passion they bring to their craft, and enjoy lively conversation with friends old and new.
Whether this is an escape for you and a loved one or a great night out with friends you won't want to miss this experience. Space is limited to an intimate number of 24 people, so book your experience early to guarantee your spot! These dinners sell out quickly.
Disclaimer:
These events are rain or shine. We will serve in Atwater's tasting room, in or on our deck. If you wish to cancel your reservation, refunds will be given if notice is more than 7 days in advance of the event.

Sample Menu