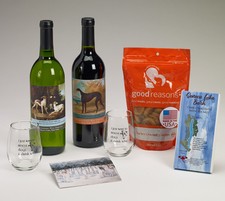 Very Good Reasons - Dog Lovers Gift
Shipping Is Included In Price
This dog lover's gift box contains 2 bottles of wine with commemorative labels from the The Grapehound Wine Tour® of 2017 that was held here at our vineyards. They depict famous paintings of greyhound dogs from the 1700 and 1800's.
(1) bottle Big Blend 2013 (red) wine, (1) bottle Stone Bridge White wine, (1) package Good Reasons® Dog Treats - flavors vary, (1) hand-crafted Seneca Salt Bark - Dark Chocolate Bar by Life's So Sweet (Ithaca, NY), (2) stemless wine glasses imprinted "I just want to rescue dogs and drink wine", (1) 4x6 glossy folded card with image of Greyhounds In Snow.
PLEASE PICK YOUR LABELS FROM THE PHOTOS, THERE ARE SIX TO CHOOSE FROM. YOU CAN INDICATE THIS IN NOTES WHEN YOU CHECK OUT.
Label Names:
1. Nine Greyhounds In A Landscape
2. A Greyhound In An Extensive Landscape
3. Misse & Turlu, Two Greyhounds Belonging To Louis XV
4. George Lane Fox's Winning Greyhound
5. A Lady Sitting With Two Greyhounds
6. Greyhound In A Landscape
---

Good Reasons® is a not for profit dog treat company on a mission. They create scrumptious, human-grade all natural dog treats, while providing employment opportunities to people with autism and other developmental disabilities. Unleashing love & potential in every bite. Made with love in North Salem, NY.
Dog Treats offered are: mr. t's beggin' beef bone, charlies cheddar chomps, hudson's pumpkin pb pieces, bella's barkery bone, gracie's goodie two shoes, tucker's tummy tickler turkey.
The Grapehound Wine Tour®
Grapehounds works to raise awareness about ex-racing greyhounds as pets, and raise thousands of dollars every year for regional greyhound adoption efforts. The Grapehound Wine Tour® seeks to increase the number of adoptive and foster homes for sighthounds, and raise funds for regional 501(c)3 approved adoption groups to carry on their work.