Blog
Recent Posts
August 15, 2018

February 20, 2018

January 25, 2018

October 20, 2017

October 18, 2017

October 2, 2017

September 22, 2017

September 14, 2017

May 2, 2017

February 6, 2017
Blog Categories
Blog Archives
Our Writers
Blog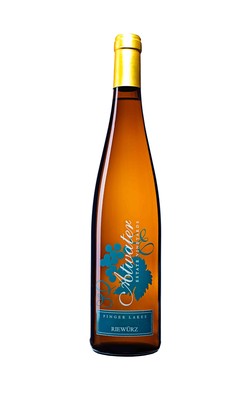 BLENDING INFORMATION: 56% RIESLING 44% GEWÜRZTRAMINER
ACIDITY: 6.62g/L pH: 3.2 R.S.: .8% ALC BY VOL: 13%
BOTTLING DATE: June 2, 2017 TOTAL PRODUCTION: 184 Cases
RELEASE DATE: May 25, 2018
PRICE: $18 BUY HERE
WINEMAKING NOTES: Fermented separately in stainless steel, we blend the two after many trials with different tanks and blends arriving with this final blend in December 2016. Aged together for six months before bottling.
TASTING NOTES: Pronounced "ree-verts", this unique combination of Riesling and Gewürztraminer marries two of Atwater's favorite varieties. It's tremendously fragrant, with a flamboyant aroma that recalls roses, lychee nuts and spices like clove and allspice. The delicate finish melds into soft flavors of apricot and lime. Starts as a Riesling, finishes as a Gewürztraminer.
FOOD PAIRING SUGGESTIONS: Experiment with food choices and this unique wine. It pairs
wonderfully with ethnic foods, prawns roast pork, autumn vegetables and blue cheeses.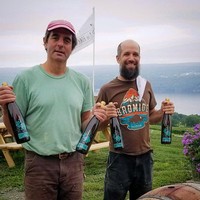 This duo blend of Riesling and Gewurztraminer was made by this duo of Vinny and George, and named by Ted , who may be just a little bit proud 💕
Congratulations to all winners of categories and to Keuka Spring Vineyards for taking the Governor's Cup for their 2017 Gewürztraminer!
NEW YORK WINE & GRAPE FOUNDATION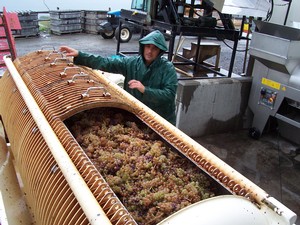 Vinny Aliperti at the grape press
Video review Celsius Wine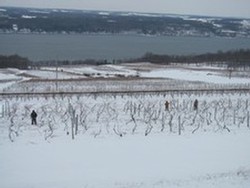 A quiet and slower time of the year in the Finger Lakes, winter is a great time to visit us. You can spend quality time with our staff learning about the vineyards, the region and just what goes into making a great bottle of wine.

We appreciate the visit and mention in NY travel guide Escape Brooklyn.
"Atwater Vineyards is yet another marvelous winery, whose location overlooks Seneca Lake. Atwater's winemakers Vinny and George are very experimental in their production process, resulting in dynamic wines from over a dozen varieties, including Riesling, Gewürztraminer, Pinot Noir and Cabernet Franc".
And speaking of travel guides:
our winery and other hospitality businesses in the surrounding area are very excited and looking forward to TBEX North America 2018 -September 10-11. Influential travel professionals from all over the world will visit and share their experiences. We are ready #myflxtbex to welcome you.
TBEX is the largest conference and networking event for travel bloggers, online travel journalists, new media content creators, travel brands and industry professionals and attracts 600-800 delegates from around the world.

Story and video are linked to the picture below.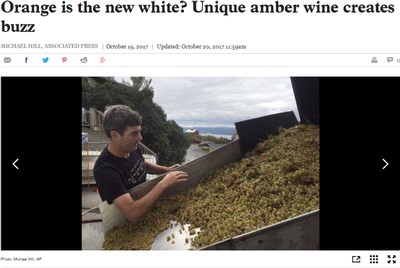 You can purchase our skin fermented "orange wines" here.

To get your very own mulled wine kit shop here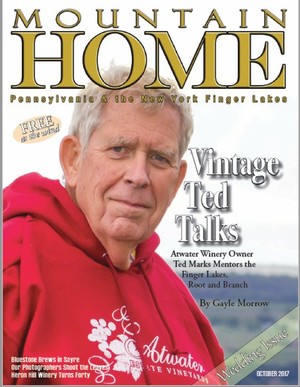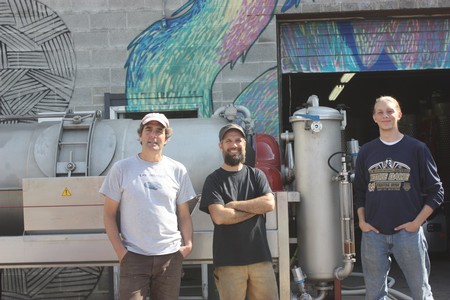 Winemakers Vinny Aliperti and George Nosis and intern Kaleb Harp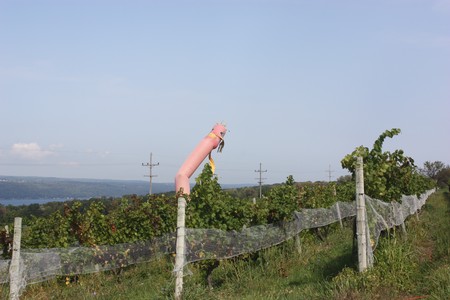 Mr. Pinot keeping birds away from the grapes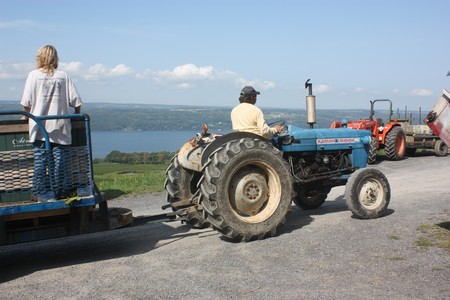 Delivering grapes from the vineyard to the winemaking area
We are excited to welcome the advent of this year's harvest season! Our first crop to be processed is cayuga grapes. Vinny Aliperti, head winemaker, observed, "Though we've had another roller coaster season of early season record rainfall and a prolonged late season cool down, the grapes are now enjoying a beautiful stretch of warm sunny days at exactly the right time in their maturation. If the weather continues to cooperate, I expect we are looking at another successful vintage." Bob Tomberelli, vineyard staff, added that the heavier than normal rainfall has led to bigger bunches of grapes, as well as greater leaf growth. The leaf growth removal is a labor intensive process but required to allow the grapes access to sun and air and to keep disease pressure down.
Keep watching our blog for more harvest news!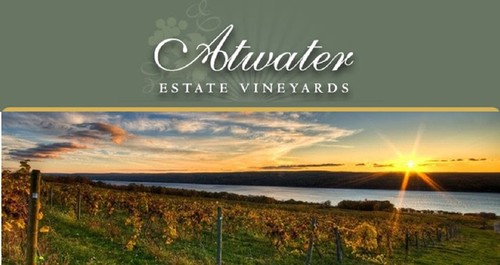 Highlighting Gewürztraminer - rich exotic flavors, flamboyant in the mouth
Warm Greetings Friends -
Harvest 2017 is quickly coming upon us. The change of seasons, brilliant colors, the cool, clean air with morning fog over the lakes gives one such serene feelings - the calm before the busiest time of the year at the wineries. Tourism picks up as visitors delight in watching activities in the vineyards and feeling part of the coming vintage.

On that note, we've learned that Atwater is a semi-finalist for Upstate New York's Best Winery Of The Year! If you would like to VOTE for your favorite winery click on the check box next to the name. You can select up to two places, but can only vote one time. The poll will close 11:59 p.m. on Sunday, Sept. 17.


our gorgeous pink skinned Gewürztraminer grapes
We have many wines that are perfect for the fall weather but one that really stands out with autumn's seasonal foods is our Gewürztraminer. Highly aromatic and slightly spicy, not only is it a perfect compliment for that sage-rubbed turkey with all the fixings, but the viscous, silky mouthfeel and richness will beautifully complement herb-scented gravy, butternut squash soup, oyster stew, or curried mussels. This dry (.4% RS) style has floral aromas and flavors of honeysuckle, spicy gingerbread and grapefruit. Gewürz begs to be paired with food and it's pairings are numerous. Good with all forms of pork, spicy grilled chicken, Asian cuisine.
Shop here for a special discount offer not to be missed: Gewürztraminer 2012
| | | | |
| --- | --- | --- | --- |
| one bottle | three bottles | six bottles | twelve bottles |
| $15 | $30 | $50 | $90 |
| | save $15 | save $40 | save $90 |
September Wine Shipping:
We are now offering low shipping prices on ALL wines where we are legal to ship. Simply purchase 4 or more bottles and shipping will cost $1 per bottle.
No promo code will be necessary and you can use this discount at anytime during the month of September. Browse our wineshop - the savings will really add up and we are happy to share them with you.

Greetings!
The weather is getting warmer, the grapevines are budding and our vineyard crew is busy tying the canes, fixing posts and wires. In the cellar, the winemakers are conducting blending sessions and readying the first round of wines to be bottled. Visitors to the tasting room are increasing on the weekends, and we have plenty of delicious selections to try.
We'd like to update you on some of the exciting events that we have planned for the next couple of months and invite you to learn more about them.
May 20, 11:00-5:00 - Seneca Lake Wine & Food Fesitval
Will be held at Clute Park in Watkins Glen. Save $5 with ticket code WSLWF. Click Buy Tickets to purchase now for discount pre-sale tickets!

June 11, 5:00-8:00 - The Vineyard Table featuring The Red Dove
An intimate dining experience deep in the heart of our vineyards. Limited to 22 guests, these seats sell out quickly.

June 17, 5:00-8:30 - Case Club Member Party
Held each year in June. We will have delectable foods prepared by Serendipity Catering that are thoughfully paired with Atwater wines as well as vineyard hayride tours, music by Sugar Still and the ever favorite vertical vintage tastings from our cellar library. If you are not a club member yet and would like to join, just purchase your first case of 12 bottles by June 1 and you are welcome to purchase member tickets. Membership applies to 2 people.

June 21, 5:00-8:30 - Summer Solstice Celebration Dinner
Join us for a special evening under the big tent on the lawn to celebrate the start of summer! Why not party on a Wednesday evening on the longest day of the year.

June 24-25, times are various - Farm to Fork Fondo -
Our Farm Winery will serve as the start-finish venue on June 25, and host a pre-ride 'Meet the Farmers Dinner' on June 24, catered by farm-to-table specialists Serendipity Catering. What is a Fondo you ask? It's an organized bicycle ride where you get to choose the distance best for you and stop for chef-prepared bites at farms along the way. If you are not a bicyclist and would like to be part of the fun, there is a Meal Only Registration (you don't have to ride a bike to have a great time!)

July 22-23, The Grapehound Wine Tour -
Our winery will once again be hosting this greyhound adoption themed weekend. General public is welcome to visit and learn more.

August 6, 5:00-8:00 The Vineyard Table featuring The Red Dove is the second of two dates this year.

Like a beacon of light on this grey February day...
Our popular Dry Rosé will be back on the menu soon. The very ripe and clean Cabernet Franc grapes were machine harvested on October 6, 2016. Gently macerated, the grape skins were left in contact with the juice for 3 hours to achieve this beautiful color. Pressed off and stainless steel tank fermented, Atwater's style on Rosé is to create light-bodied, crisp wines with good acidity. With a flavor profile that calls out strawberry and tart cranberry, it's very versatile and pairs well with a variety of foods.
The first wine to be bottled from the 2016 vintage, we are happy to announce that we've increased our production from 500 cases in 2015 to 800 cases.
Look for this wine to be released on or around March 1, 2017.
Notify Me When Wine Is Released
For more news on exciting Finger Lakes Dry Rosé, check out Discover Dry Rosé.