Blog
Recent Posts
February 6, 2017

December 16, 2016

October 31, 2016

September 29, 2016

September 28, 2016

September 15, 2016

(2 Comments)

September 7, 2016

August 10, 2016

August 9, 2016

July 8, 2016
Blog Categories
Blog Archives
Our Writers
Blog

Like a beacon of light on this grey February day...
Our popular Dry Rosé will be back on the menu soon. The very ripe and clean Cabernet Franc grapes were machine harvested on October 6, 2016. Gently macerated, the grape skins were left in contact with the juice for 3 hours to achieve this beautiful color. Pressed off and stainless steel tank fermented, Atwater's style on Rosé is to create light-bodied, crisp wines with good acidity. With a flavor profile that calls out strawberry and tart cranberry, it's very versatile and pairs well with a variety of foods.
The first wine to be bottled from the 2016 vintage, we are happy to announce that we've increased our production from 500 cases in 2015 to 800 cases.
Look for this wine to be released on or around March 1, 2017.
Notify Me When Wine Is Released
For more news on exciting Finger Lakes Dry Rosé, check out Discover Dry Rosé.


89 Rating Wine Enthusiast Best Of Year 2016 Issue
Atwater 2013 Blanc de Blancs Méthode Champenoise Chardonnay (Finger Lakes).
Cutting, fresh apple, lemon and lime reverberate throughout this zesty Chardonnay sparkling wine. The palate is exceptionally fine in texture with a softly mouth-filling mousse. The finish is tinged by a pleasant swathe of green herbs and lime zest. -A.I. December 31, 2016
---
TECH NOTES:
APPELLATION: Finger Lakes
VINEYARDS: Atwater Estate Vineyards
HARVEST DATE: 9/10/2013 HARVEST BRIX: 18.2˚
GROWING CONDITIONS: The growing season was close to average in number of growing degree days. We avoided any significant spring frost.
Heavy spring rains continued into June, July was hot and humid with temps reaching the triple digits. Through early August, the relatively dry weather had vineyards thriving. An inch of rain on Labor Day turned up the disease pressure in some vineyards but a spectacular September saved us by staying dry and sunny for most of the month.

BLENDING INFORMATION: 100% Chardonnay
ACIDITY: 9.6g/l pH: 3.01 RESIDUAL SUGAR: .2% ALCOHOL: 12%
BOTTLING DATE: 7/11/14 DISGORGING DATE: 12/16/15
DOSAGE DATE: N/A RELEASE DATE: 6/3/16 PRODUCTION: 210 cases

WINEMAKERS NOTES: Hand-harvested, estate grown Chardonnay was 90% whole cluster pressed and 10% skin fermented. The secondary fermentation was inoculated with DV10 and allowed to mature on yeast lees for 18 months before disgorging contributing to the wine's delicate, opulent bubbles. Sample trials done in Dec. 2015 showed the wine to be balanced and refreshing so we opted out of any additional sugar dosage treatment. The term for this is "Brut Nature" or "Zero Dosage" denoting the very driest style of sparkling wines with less than three grams of residual sugar per liter of wine.
TASTING NOTES: Huge floral aromas linger with honeysuckle and rose. Layered, bright flavors of peach and kiwi give way to a citrusy finish.
FOOD PAIRINGS: Pan seared scallops with grapes and almonds or arugula salad with goat cheese and prosciutto. In fact, this style is so versatile it pairs with almost any food. Enjoy!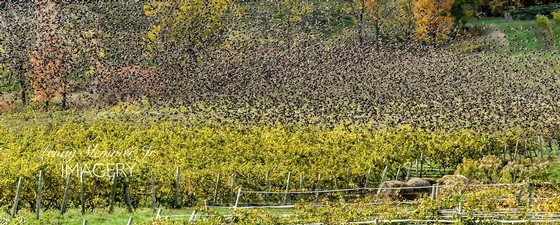 OCTOBER 30, 2016, 10:37 AM| The scarecrow is an ancient tool of farmers trying to protect their crops from hungry birds. But these nostalgic agricultural aids - the stars of the annual Peddler's Village Scarecrow Festival in Bucks County, Pa. - are being supplanted by more modern methods. Luke Burbank checks out some farms using less traditional ways to scare off birds.

An interview with winemaker Vinny Aliperti

Watch the cool video taken by Doc Pike from Atwater's Deck.
A beautiful start to Labor Day Weekend. The time lapse was taken over 1 hour, one frame shot every 10 seconds. Check out docsfingerlakesguide.com for more images of the Finger Lakes.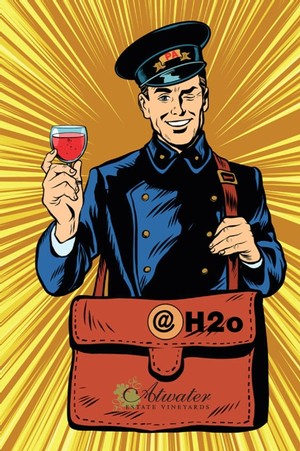 We are pleased to be able to offer a gift of (almost) free shipping - One Cent shipping to your home or business. Minimum order - 6 bottles, through the month of October.
No Promo Code Necessary -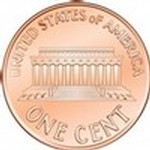 Feel free to stock up on your favorites! Shop here

15th Annual Hudson Valley Wine Festival September 10-11, 2016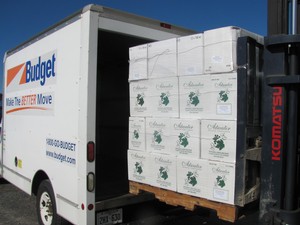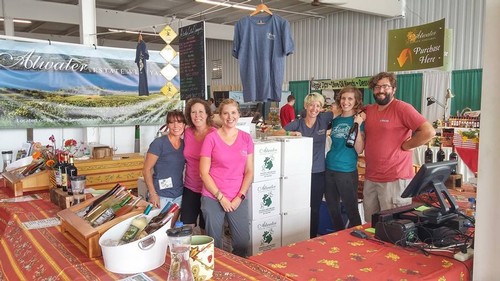 We are heading to The Dutchess County Fairgrounds in Rhinebeck this weekend for the 15th Annual Hudson Valley Wine Festival. Celebrating with our "downstate" A-Team that has been "workin" this event with us for all these years and other FLX wineries that have been doing the same.
Come and visit our booth #18 in the A Building - right up front, we've got some bundle deals for you and special commemorative wine labels applied to some Mini (splits) Stone Bridge Red bottles, 2013 Cabernet Franc, Celsius, and Sweet Niagara. Special label designed by Brian McGrane. Limited quantities.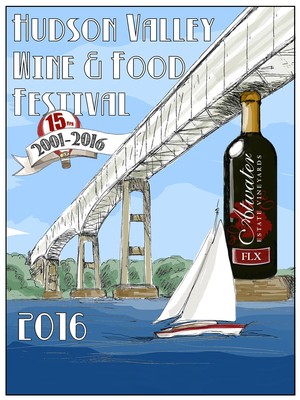 The Atwater Team is as proud as can be to announce that our humble winemaker, Vincent Aliperti has been awarded New York wine industry's highest honor for his
2013 Billsboro Syrah
. The grapes were sourced from
Sawmill Creek Vineyards
right here on Seneca Lake. Congrats Vinny & Kim and Eric & Tina Hazlitt!!
We will post the results for Atwater wines as soon as they become available.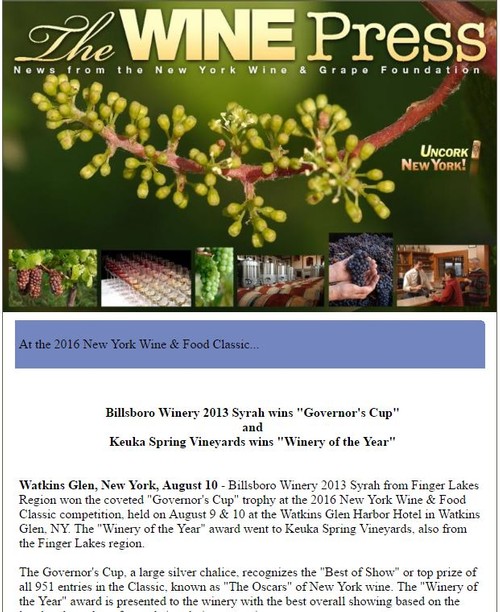 Our latest scores just received from Wine Enthusiast Magazine. These will be in the Nov. issue.
89 Atwater 2015 Dry Rosé of Cabernet Franc
89 Atwater 2014 Dry Riesling
---
The New York Wine & Food Classic winners will be announced tomorrow (Aug 10) that include the Governor's Cup and Winery of the Year. We will be awaiting the results to share with you.
2016 New York Wine & Food Classic, a professional wine competition open to all wineries in New York State, scheduled for August 8 – 10 at the Watkins Glen Harbor Hotel in the Finger Lakes.
The New York Wine & Food Classic has become known as "The Oscars" of the New York wine industry. The 21 judges include wine writers, wine educators, retailers, restaurateurs and other experts from around the State, country, and world. All wines are judged "blind" on their own merits, with the "Governor's Cup" and other awards made public as soon as possible after the competition ends.
UPDATE:
DOUBLE GOLD
2014 Dry Riesling
2015 Dry Rosé of Cab Franc
SILVER
2014 Chardonnay
2013 Big Blend
2014 Fahrenheit
---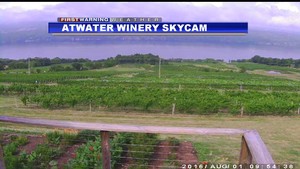 There has been a lot of discussion about the lack of rain in the FLX, and yes it will probably mean a smaller crop, meaning weight, but hopefully a richer one. We at Atwater are OK. The vines are amazingly smart and are turning their leaves away from the sun to preserve evaporation.

We are again hearing that it's going to rain, maybe tomorrow, maybe through Saturday. We do need a nice steady day of rain. This will catch and save our grapes right on the "cusp" as they say.

Have a good week all - Ted
​


Silo Food Truck • July 9th 12-4 pm
A sustainable Farm to Food Truck! Fried chicken baby. Locally sourced....always, no matter where the truck is... They have a huge following and once you taste their scrumptious chicken, you will know why. They celebrated our 15th Anniversary with us last year and we are excited to welcome them back.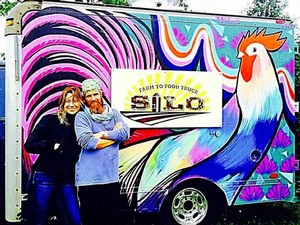 OmNomNomelttes • July 16th
Brunch & Beliinis vineyard side with a view of Seneca Lake, just another day on the Seneca Lake Wine Trail! Omnomnomelttes is a quirky pop-up brunch bistro that features omelettes, pastries and sandwiches using fresh, local and sustainable ingredients. Paired with our flavored Bellinis made with Atwater's Riesling Bubble, this a great way to start your journey around Seneca Lake.













Global Taco @ Atwater Winery • July 30, 12-4
Taco creations inspired by flavors all over the world, Global Taco is a local favorite. Keep an eye out for the big yellow food truck!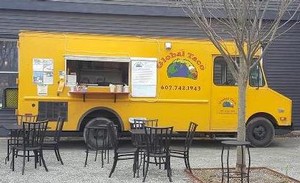 Global Taco is a food truck in Chemung, Steuben, & Schuyler serving tacos from around the world April-October. Schedule globaltacotruck.com!