Blog
Recent Posts
June 9, 2017

May 2, 2017

February 6, 2017

December 16, 2016

October 31, 2016

September 29, 2016

September 28, 2016

September 15, 2016

(2 Comments)

September 7, 2016

August 10, 2016
Blog Categories
Blog Archives
Our Writers
Blog

To reserve your tickets, please click on the image to be taken to our webstore.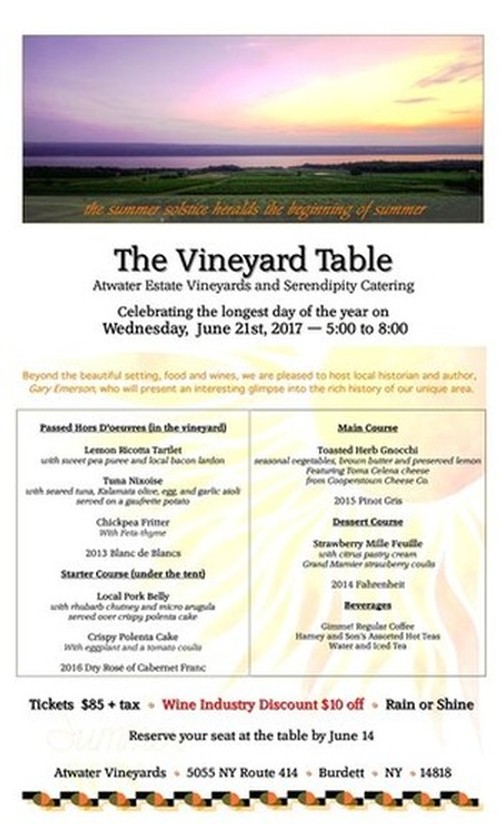 Greetings!
The weather is getting warmer, the grapevines are budding and our vineyard crew is busy tying the canes, fixing posts and wires. In the cellar, the winemakers are conducting blending sessions and readying the first round of wines to be bottled. Visitors to the tasting room are increasing on the weekends, and we have plenty of delicious selections to try.
We'd like to update you on some of the exciting events that we have planned for the next couple of months and invite you to learn more about them.
May 20, 11:00-5:00 - Seneca Lake Wine & Food Fesitval
Will be held at Clute Park in Watkins Glen. Save $5 with ticket code WSLWF. Click Buy Tickets to purchase now for discount pre-sale tickets!

June 11, 5:00-8:00 - The Vineyard Table featuring The Red Dove
An intimate dining experience deep in the heart of our vineyards. Limited to 22 guests, these seats sell out quickly.

June 17, 5:00-8:30 - Case Club Member Party
Held each year in June. We will have delectable foods prepared by Serendipity Catering that are thoughfully paired with Atwater wines as well as vineyard hayride tours, music by Sugar Still and the ever favorite vertical vintage tastings from our cellar library. If you are not a club member yet and would like to join, just purchase your first case of 12 bottles by June 1 and you are welcome to purchase member tickets. Membership applies to 2 people.

June 21, 5:00-8:30 - Summer Solstice Celebration Dinner
Join us for a special evening under the big tent on the lawn to celebrate the start of summer! Why not party on a Wednesday evening on the longest day of the year.

June 24-25, times are various - Farm to Fork Fondo -
Our Farm Winery will serve as the start-finish venue on June 25, and host a pre-ride 'Meet the Farmers Dinner' on June 24, catered by farm-to-table specialists Serendipity Catering. What is a Fondo you ask? It's an organized bicycle ride where you get to choose the distance best for you and stop for chef-prepared bites at farms along the way. If you are not a bicyclist and would like to be part of the fun, there is a Meal Only Registration (you don't have to ride a bike to have a great time!)

July 22-23, The Grapehound Wine Tour -
Our winery will once again be hosting this greyhound adoption themed weekend. General public is welcome to visit and learn more.

August 6, 5:00-8:00 The Vineyard Table featuring The Red Dove is the second of two dates this year.

Like a beacon of light on this grey February day...
Our popular Dry Rosé will be back on the menu soon. The very ripe and clean Cabernet Franc grapes were machine harvested on October 6, 2016. Gently macerated, the grape skins were left in contact with the juice for 3 hours to achieve this beautiful color. Pressed off and stainless steel tank fermented, Atwater's style on Rosé is to create light-bodied, crisp wines with good acidity. With a flavor profile that calls out strawberry and tart cranberry, it's very versatile and pairs well with a variety of foods.
The first wine to be bottled from the 2016 vintage, we are happy to announce that we've increased our production from 500 cases in 2015 to 800 cases.
Look for this wine to be released on or around March 1, 2017.
Notify Me When Wine Is Released
For more news on exciting Finger Lakes Dry Rosé, check out Discover Dry Rosé.


89 Rating Wine Enthusiast Best Of Year 2016 Issue
Atwater 2013 Blanc de Blancs Méthode Champenoise Chardonnay (Finger Lakes).
Cutting, fresh apple, lemon and lime reverberate throughout this zesty Chardonnay sparkling wine. The palate is exceptionally fine in texture with a softly mouth-filling mousse. The finish is tinged by a pleasant swathe of green herbs and lime zest. -A.I. December 31, 2016
---
TECH NOTES:
APPELLATION: Finger Lakes
VINEYARDS: Atwater Estate Vineyards
HARVEST DATE: 9/10/2013 HARVEST BRIX: 18.2˚
GROWING CONDITIONS: The growing season was close to average in number of growing degree days. We avoided any significant spring frost.
Heavy spring rains continued into June, July was hot and humid with temps reaching the triple digits. Through early August, the relatively dry weather had vineyards thriving. An inch of rain on Labor Day turned up the disease pressure in some vineyards but a spectacular September saved us by staying dry and sunny for most of the month.

BLENDING INFORMATION: 100% Chardonnay
ACIDITY: 9.6g/l pH: 3.01 RESIDUAL SUGAR: .2% ALCOHOL: 12%
BOTTLING DATE: 7/11/14 DISGORGING DATE: 12/16/15
DOSAGE DATE: N/A RELEASE DATE: 6/3/16 PRODUCTION: 210 cases

WINEMAKERS NOTES: Hand-harvested, estate grown Chardonnay was 90% whole cluster pressed and 10% skin fermented. The secondary fermentation was inoculated with DV10 and allowed to mature on yeast lees for 18 months before disgorging contributing to the wine's delicate, opulent bubbles. Sample trials done in Dec. 2015 showed the wine to be balanced and refreshing so we opted out of any additional sugar dosage treatment. The term for this is "Brut Nature" or "Zero Dosage" denoting the very driest style of sparkling wines with less than three grams of residual sugar per liter of wine.
TASTING NOTES: Huge floral aromas linger with honeysuckle and rose. Layered, bright flavors of peach and kiwi give way to a citrusy finish.
FOOD PAIRINGS: Pan seared scallops with grapes and almonds or arugula salad with goat cheese and prosciutto. In fact, this style is so versatile it pairs with almost any food. Enjoy!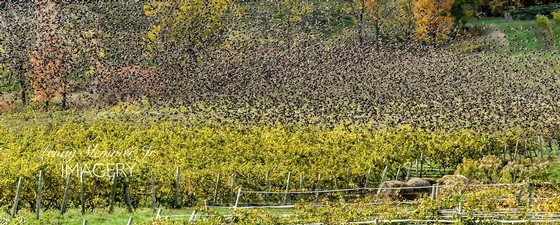 OCTOBER 30, 2016, 10:37 AM| The scarecrow is an ancient tool of farmers trying to protect their crops from hungry birds. But these nostalgic agricultural aids - the stars of the annual Peddler's Village Scarecrow Festival in Bucks County, Pa. - are being supplanted by more modern methods. Luke Burbank checks out some farms using less traditional ways to scare off birds.

An interview with winemaker Vinny Aliperti

Watch the cool video taken by Doc Pike from Atwater's Deck.
A beautiful start to Labor Day Weekend. The time lapse was taken over 1 hour, one frame shot every 10 seconds. Check out docsfingerlakesguide.com for more images of the Finger Lakes.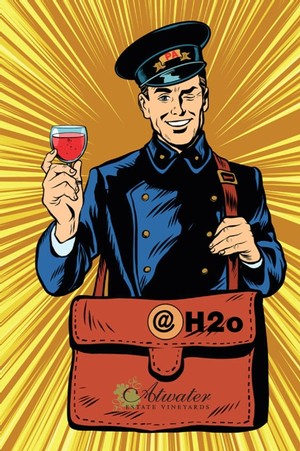 We are pleased to be able to offer a gift of (almost) free shipping - One Cent shipping to your home or business. Minimum order - 6 bottles, through the month of October.
No Promo Code Necessary -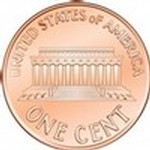 Feel free to stock up on your favorites! Shop here

15th Annual Hudson Valley Wine Festival September 10-11, 2016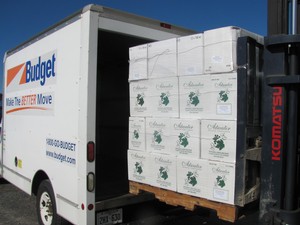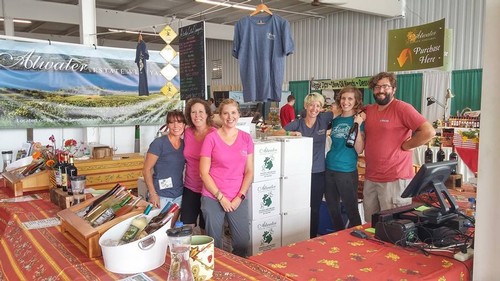 We are heading to The Dutchess County Fairgrounds in Rhinebeck this weekend for the 15th Annual Hudson Valley Wine Festival. Celebrating with our "downstate" A-Team that has been "workin" this event with us for all these years and other FLX wineries that have been doing the same.
Come and visit our booth #18 in the A Building - right up front, we've got some bundle deals for you and special commemorative wine labels applied to some Mini (splits) Stone Bridge Red bottles, 2013 Cabernet Franc, Celsius, and Sweet Niagara. Special label designed by Brian McGrane. Limited quantities.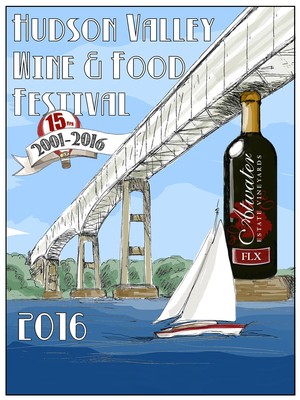 The Atwater Team is as proud as can be to announce that our humble winemaker, Vincent Aliperti has been awarded New York wine industry's highest honor for his
2013 Billsboro Syrah
. The grapes were sourced from
Sawmill Creek Vineyards
right here on Seneca Lake. Congrats Vinny & Kim and Eric & Tina Hazlitt!!
We will post the results for Atwater wines as soon as they become available.